Attention!
The product has been discontinued. Check other products incategory.
Description
Base board for Atnel WiFi232-T module. It has the ability to connect to wi-fi module. It works with a voltage of 3.3 V and 5 V. Built-in pins facilitate the use of the module.
ATNEL AIR 2 module has all the necessary SMD components. This module can be installed horizontally or vertically. this board can be considered to be an evaluation mini-set for tests with multiple different radio modules. ATNEL AIR module allows to run on its board, the radio modules in various systems with microcontrollers powered with the voltages of +5 V and +3.3 V. By DEFAULT, the module is configured using the SMD J2 jumper to operate with +5 V power supply (which means that we give the voltage of +5V to a module, having provided voltage conversion on the RX and TX lines of the wi-fi module). At the same time, for each range of voltages, prepared is conversion of the voltages on the RX and TX lines. If necessary, connect the module to the microcontroller powered with the voltage of +3,3 V, the SMD J2 jumper should be unbrazed and then solder the SMD J1 jumper. Alternatively, you could solder three goldpins in the area marked with CN1 and choose the supply voltage and operation voltage through jumper. You should keep in mind that goldpins of the CN1 slot, have a pitch of 2 mm.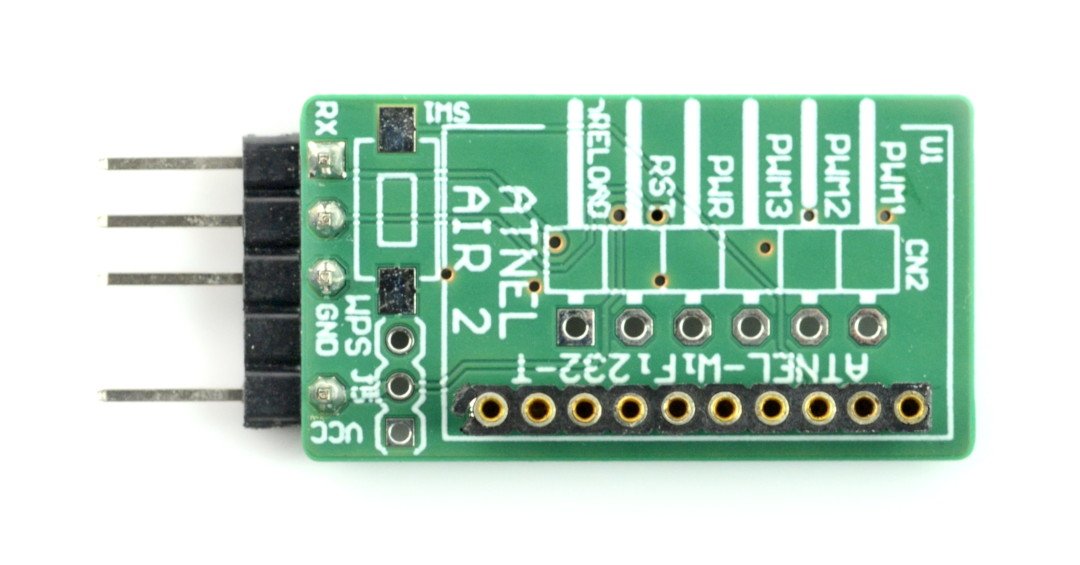 The basic advantage of this interface is its simplicity, and at the same time, security during the wrong reverse connection of the module in the slot. The application of a simple key (one pin is missing) and also well-thought location of the TX and RX line relatively to the VCC and GND power lines, leads to the fact that the module is not damaged.