Attention!
The product has been discontinued. Check others products in category.
Instead of Banana Pi we recommendRaspberry Pi.
Description
BPi W2 is a router designed for network applications of multimedia routers, such as home entertainment, home automation, game center, etc. It is equipped with2 GB of RAM,8 GB of eMMC memory, processorRealtek RTD1296, Quad-core ARM Cortex-A53 1.5 GHzand connectors:USB 3.0, USB 2.0, USB-C, slot formicroSD card, slot forSIM card,2xHDMI(input / output),mini Display PortandIR.Board also has40 GPIO pins, as well as communication interfacesUART, I2C, SPI.Thanks to the connectorSATA, the user can plug-in the drive. Built-in buttons: Reset, Power, LSADC and IR receiver are useful in the process of operation of the module.
The router has 2 network RJ-45 sockets working in Ethernet 10/100/1000 Mb standard, WLAN is also supported through the PCI-e port. SATA connectors facilitate the connection of a hard drive.

Specification
CPU: Realtek RTD1296, Quad-core ARM Cortex-A53 1.5 GHz
RAM: 2 GB DDR4
Flash eMMC memory: 8 GB (expandable)
Graphics: Mali T820 GPU MP3
Slot for microSD memory card
Slot for SIM card
SATA connectors for connecting the drive
Built-in eMMC 8GB Flash memory
Fan Connector of 5 V
HDMI slots: 1x input, 1x output
Slot mini Display Port
Connector mini jack of 3.5 mm
2 Ethernet RJ45 ports of 

10/100/1000 Mbps

1 USB 3.0 port
1 USB 2.0 port
1 port USB C
Input of the power of 12V / 2A DC
40 pins of GPIO
Embedded buttons: Power, Reset, LSADC
Built-in IR receiver
LEDs in red, green and blue color
Dimensions: 148 x 100.5 mm
Weight: 100 g
Detailed information can be found onthe website of the manufacturer.
The picture and sound
Banana Pi has aHDMI connector, through which you can send picture and sound.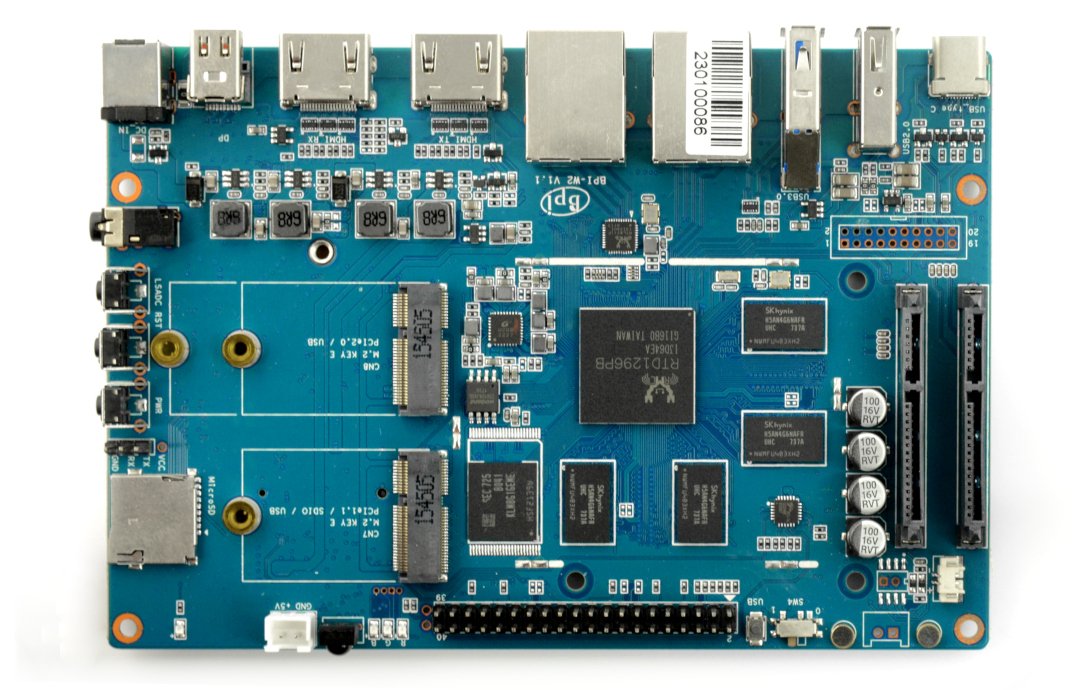 Operating system
Drive of the Banana Pi is a microSD memory card.The operating systemcan be downloaded via the computer with the reader. Board supports i.a. systems: Android, Android 5.1, Debian, Ubuntu and Raspbian. Installation guide of the system can be found atthis address.
Communication
Banana Pi has basic communication interfaces that can be found in office computers of PC class. In addition to the previously listed connectors of audio and video, the user has at his or her disposal:
USB connectors, to which can be connected, for example, a mouse, a keyboard, a wi-fi card or USB flash drive. If you find that the slots are too short, you can increase their number using an external USB HUB

.

2 Ethernet slots that is a direct connection to LAN 

10/100/1000 Mbps

.
40 x GPIO- 

outputs/inputs with general purpose that can be used to control the LEDs, buttons, drivers of engines. Among them are the pins supporting interfaces: I2C, SPI and UART.

Compatible withRaspberry Pi.
SATA connectors- to connect the drive.
The interfaceRGMII
The SIM card slot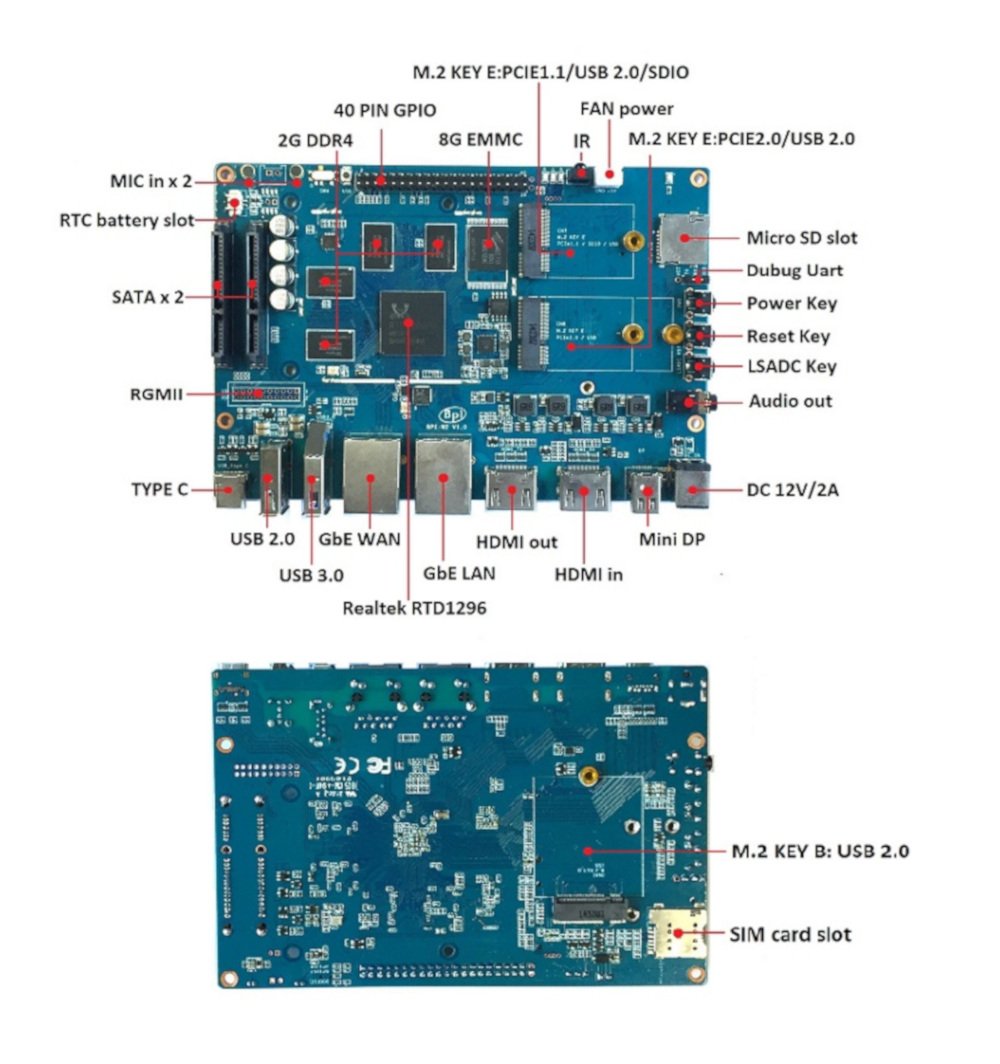 Power
As a power source, the system uses the DC 12V 2A connector. Power supply is not included, it is available in our offer.