Attention!
The product has been discontinued. Check other products in category.
Product description: Genibot school kit with mat, disks, organizer, racks + 4x online course
Educational set consisting of four GeniBotrobots, accessories for the robot in four sets, additional cards, book "Early childhood education with GeniBot - Part I", double-sided educational mat and 350 pucks. Additionally, the set includes 4 certified training and a convenient organizer. Educational elements and didactic tools have been compiled with early school age children in mind.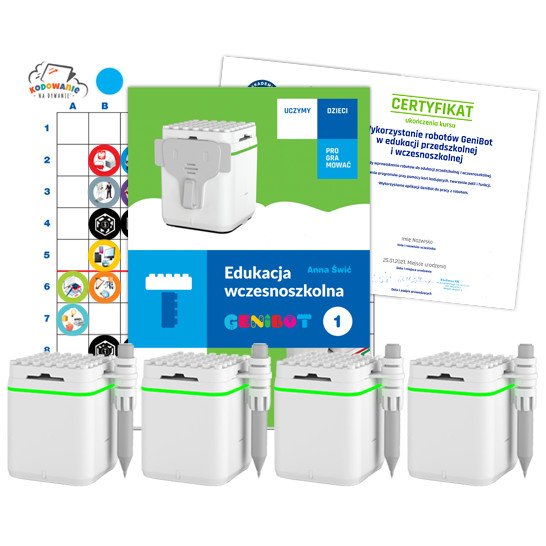 GeniBot - robot for learning coding offline and online
GeniBot is aneducational robotwith features that are useful while learning programming. It introduces the youngest users to the world ofmodern technologies.It also encourages them to experiment andstimulates their creativity. Working with GeniBot also influences the development of soft skills. It develops logical and algorithmic thinking, as well as a task-oriented approach to problems.
Certified online course - "Use of GeniBot robots in preschool and early school education".
Lasting up to 8 hours, thisonlinecourseis designed for teachers and educators, as well as for those who want to use GeniBot in their work with preschool and early elementary children. The training is conducted byprofessional trainerswho, by means of films, presentations and detailed descriptions, discuss the potential and possibilities of conducting classes with GeniBot. At the beginning they teach how to introduce the robot to the didactic classes, and then they smoothly move on to the implementation of projects which use, among others, gesture control. The formula of the course has been designed in such a way as to enable the student toreturn to the previously covered material several times. Access to the course isvalid for one year, counted from the date of activation.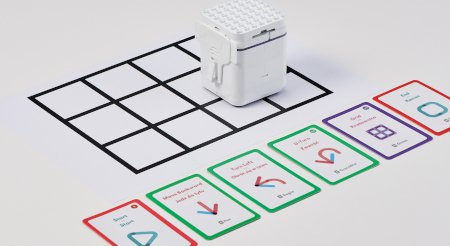 Course programme
Introduction

From coding on the mat to robotics - what to remember, what to pay attention to

Different objects, different ways of coding - introduction of rotations

Before I create my first program... how Genibot works

Creating the first program - commands responsible for movement

From point A to point B - GeniBot on different educational levels

Encoding with gestures

Introducing repetitions

Loops in GeniBot programming

Functions in GeniBot programming

Conducting robot - introducing music sheets

Maths with GeniBot - addition and subtraction cards

GeniBot and drawing - dedicated cards

Line tracing

Navigating through lines on a grid

Creating a network of robots

GeniBot application
Early childhood education
The set includes the book "Early School Education with GeniBot - Part I", written byAnna Świć- an education expert. It contains over 100 pages with ready-made ideas for classes and instructions for teaching lessons. Among them there are lesson scenarios such as:
We care about the environment,
Nouns, verbs, adjectives - consolidating parts of speech with GeniBot,
Solar system with GeniBot,
Trip around Poland with GeniBot,
Square or rectangle - we learn geometrical shapes with GeniBot,
24 hours from the life of GeniBot,
Stairs to a loop,
Musical code,
Mathematical slalom with GeniBot,
Healthy eating - we introduce the concept of functions
"GeniBot - Early childhood education with Genibot - part I".
About the author
Anna Świćis the author of materials about GeniBot and the owner of a company dealing with trainings. She is a well-known ambassador of the EduSense brand. She is a teacher and a speech therapist by education and an educational expert by experience. She has developed a number of scenarios for teaching activities for children and teachers.
Contents of the kit
4 x GeniBot robot
4 x Accessories for Genibot
8 x Additional set of cards
1 x Book "Early childhood education with Genibot - Part I"
4 x Certified online course - Using GeniBot robots in preschool and early school education
1 x Double-sided educational mat with dimensions of 150 x 150 cm
350 double-sided discs of key competences
1 x Organizer for pucks
1 x discs racks
1 x USB hub (collective charger) - 1 pc.