Attention!
The product has been discontinued. Check other products in category.
Description
Board equipped with the famous from Arduino Leonardo, ATmega 32u4 microcontroller with installed bootloader. Allows you to connect up to 12 touch buttons. The board has a socket with a microSD card of 32 GB, and built-in Mp3 player and MIDI-VS1053B, and Li-pol charger. The system can be programmed via the Arduino IDE using theplug, the pins are working at a voltage of 5 V.
Key features
The device is compatible withArduino Leonardowith an installed bootloader
It has the Atmega32u4 microcontroller with 32KB of Flash memory, 2.5 KB of SRAM
It is equipped with 20 digital pins and 12 analog inputs
The board can be programmed viathe Arduino IDE with the installed plug
The microUSB slot supports programming using a cable(not included, sold separately).
The distribution of connectors is compatible withArduino Shields(connectors are sold separately and are to self-solder)
The built-in module allows for charging with the LiPol 3,7 V battery
VLSI VS1053B system (documentation) for playing MP3 and MIDI files
The set has memory card of 32 GB that fits to a dedicated microSD slot 
Jack connector of 3,5 mm for headphones
The driver for the MPR121 Freescale (documentation) allows you to connect 12 touch buttons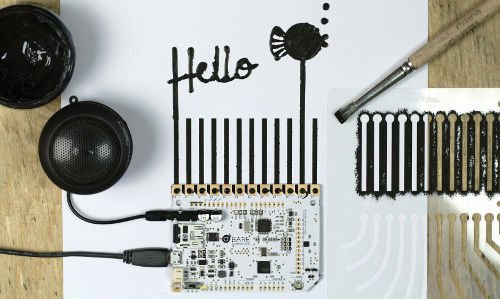 Buttons can also be drawn by electrically conducstive paint.