Attention!
The product has been discontinued. Check other products in category.
Description
The adapter allows you to connect the computer via mini-usb cable to the various modules via a parallel interface with a FIFO queue. It has 8 data contacts and 6 control contacts.The module operates from a voltage of 3.3 V and 5 V, selected through a jumper. Without the bridge the device must be powered from the target board (3.3 V to 5 V). Module dimensions 41 x 30 mm.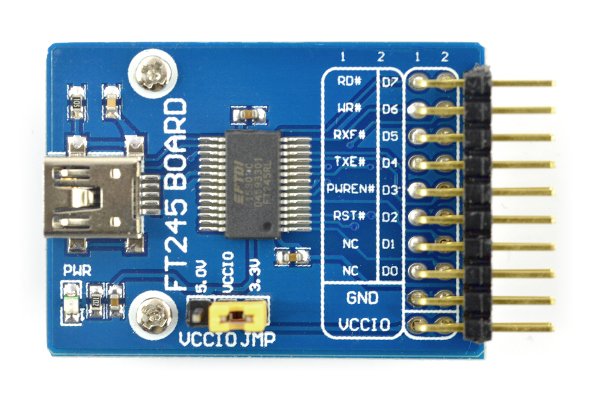 The system has a miniUSB connector,the cablemust be purchased separately. Works with operating systems Windows 7, 8/8.1 and 10.

Connection
The table describes the outputs of the converter.
Pin
Description
VCCIO
Power 3.3 V or 5 V is set using jumpers.
GND
The ground of the system.
D0 - D7
The next bits of the data bus FIFO.
NC
Not connected.
RST#

Input pin is used by an external device

to reset the FT245 chip.

PWREN#

Pin-code indicating the status of the USB bus:

Low - configuration of the device via the USB port
High - USB on hold.

TXE#

Pin informing about the saving

High - saving is not possible,
Low - entry in the FIFO is possible via changing the state of contact WD from high to low.

RXF#

Pin code informing about reading

High - reading is impossible,
Low - data is available for reading in the FIFO read is done by changing the contact state with RD low to high.

WR#

Writes a byte of data on pins D0 - D7 into FIFO when switching from high to low.

RD#

A low state includes reading of the current FIFO data byte on pins D0 - D7.

If available the next byte read is through changing the state of contact with RD from high to low.