Product description: OV9281 1Mpx Global Shutter camera with M12 lens for Nvidia Jetson Nano - NoIR - monochrome - Arducam B0223
The camera created byArducamis a part ofJetvarietyproject which allows to connect any camera module to CSI-2 high-speed connector in minicomputerNvidia Jetson Nano. It is equipped with monochromaticOV9281Global Shutter sensor of1280 x 800 pxresolution and 1/4" format. The Omnivision OV9281 sensor is equipped with OmniPixel3-GS technology, which provides full frame rate, subsampled and windowed 8/10-bit MIPI images capable of operating at up to 120 fps at full resolution on a 1-band MIPI bus with full user control over image quality. Global Shutter and excellent low light sensitivity allow it to be used in any application requiring gesture detection, eye tracking and depth and motion detection.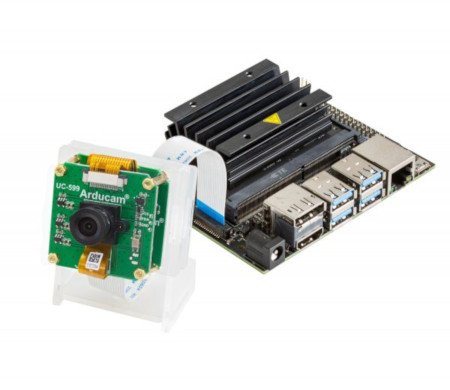 An example of connecting camera to Nvidia Jetson Nano minicomputer. The minicomputer can be purchased separately.
Attention!
Thecamera driveruses the kernel of the operating system. Upgrading or downgrading the system version may change the system kernel, which involves changing the driver.
Main features of the driver
Supports Gray, Y10, Y16
Supports V4L2 framework, Video Nodes and Controls (exposure, gain depending on camera parameters)
Supports external Global Shutter trigger
Single command driver installation
Supports OpenCV and includes sample code
Synchronization of two cameras possible
Example of camera application
Protection
Wide dynamic range imaging
Monitoring
Stereo vision
Machine vision
Automation
Camera specifications
Sensor: Omnivision OV9281 Global Shutter monochrome
Pixel size: 3 x 3 µm
Active field size: 1280 x 800 px
Format: 1/4"
Maximum frame rate: 1280 x 800 / 120 fps
Zoom range: 30mm to infinity
Lens mount: M12 x 0.5P
Viewing angle: 130° (D) / 110° (H) / 90° (V)
IR sensitivity: no IR filter
Camera interface: 2-line MIPI
Output Format: 8/10-bit RAW
Plate dimensions: 40 x 40 mm
Camera kit contents
Camera for Nvidia Jetson Nano
FFC tape
Housing components
Mounting screws and nuts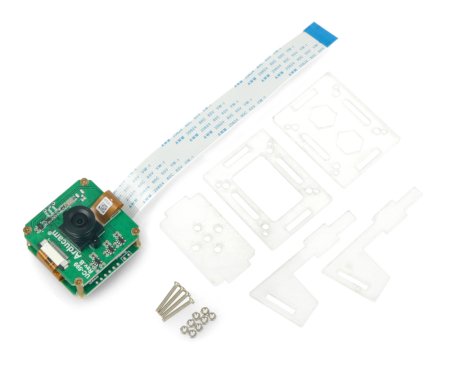 Arducam camera kit contents.