Description of the product:DFRobot Turtle 2WD - 2-wheel chassis of the robot with the drive
4Turtle - 2WD chassis is the two-wheel platform to build a mobile robot. The set includes two DC motors withwheelswith a diameter of 65 mm, screws and mounting elements, and a basket for 5 AA batteries. Elements of the chassis are made of metal and have holes that allow to mount various sensors, controllers, for example, recommended by the manufacturer of the Romeo- ArduinoorRaspberry Pi.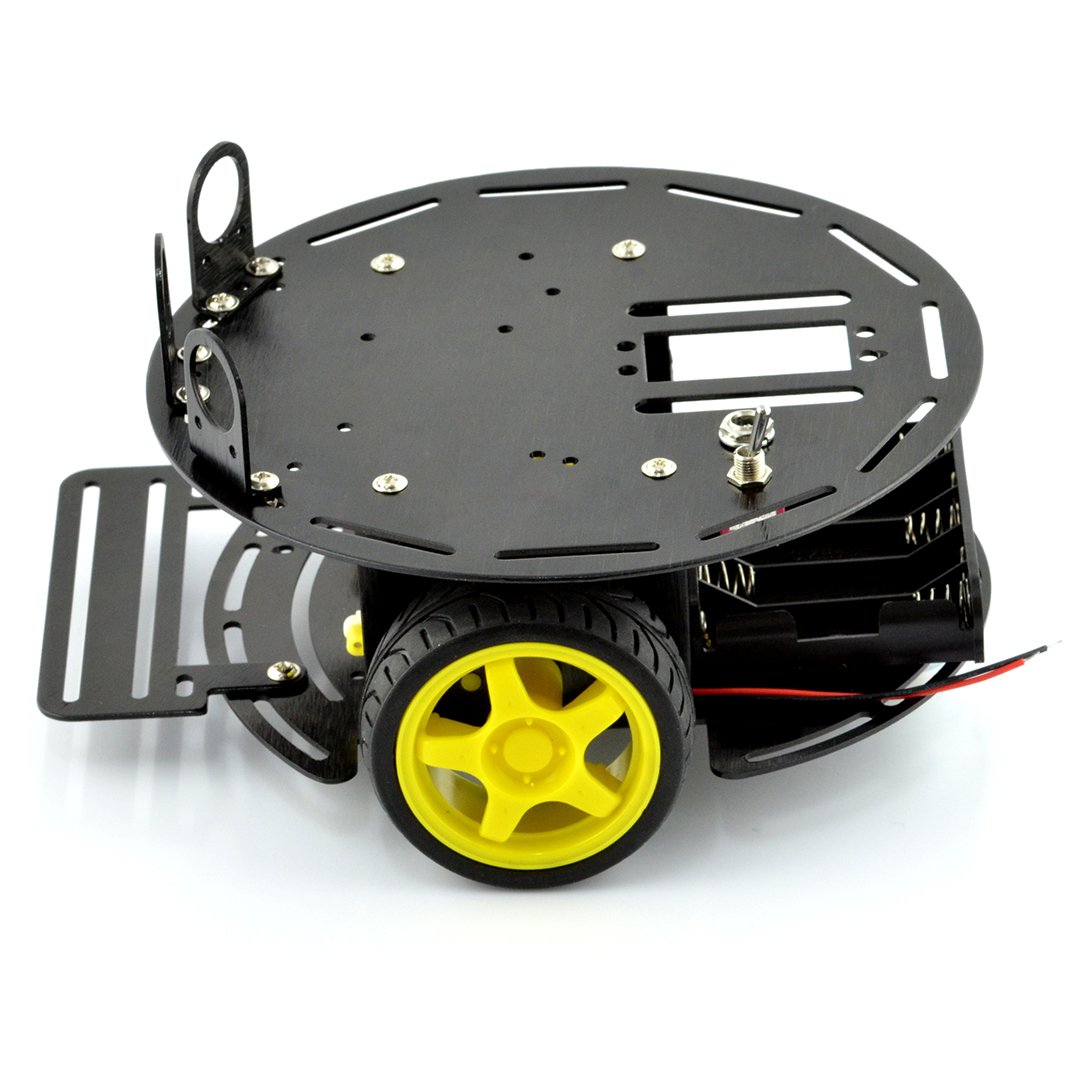 The platform is simple to install, the set includes the illustrated instruction. To run the robot, just screw the motors in, install the wheels and add any robot controller (for example, compatible with the Arduino the Romeo V2 system equipped with the driver of the L298 motors). The power source can be AAbatteries (large fingers), a suitable basket for mounting is included in the set. In our offer, we also havesensors that can extend the robot's capabilities.
Set includes
Two mounting platform 
Two wheels with tires with a diameter of 65 mm
Two DC motors with gearboxes
Metal mounting components
Basket for the batteries (5 x AA) with the led out wires
Set of screws and nuts
Installation guide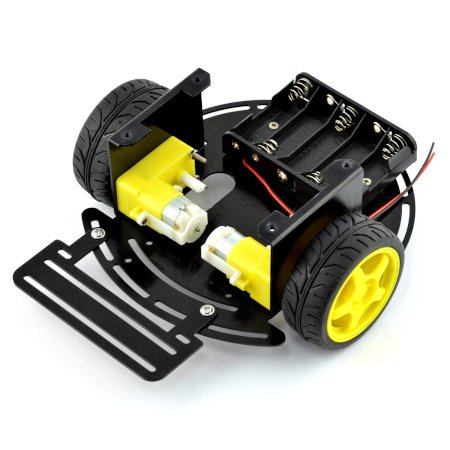 Set requires the self-asssembly, it includes the user manual.
Specification of the 2-wheel chassis of the robot with the drive
Supply voltage of the motors: 3 V to 6 V
Options for power supply 3 V:

Current consumption without load: 140 mA
Torque: 0.6 kg*cm (0,059 Nm)
Engine speed with no load: 100 +/- 10 rpm
The current consumption of the motor with a stationary shaft: up to 260 mA

The options for 6 V power:

Current consumption without load: 170 mA
Torque: 0.8 kg*cm (0,078 Nm)
Engine speed with no load: 160 +/- 10 rpm
The current consumption of the motor with a stationary shaft: up to 2000 mA

Gearbox: 1:120
Engine dimensions: 55 x 48 x 23 mm
Engine weight: 45 g

Wheels:

Diameter: 65 mm
Width: 26 mm
Plastic wheels with rubber tyres

Design

Outer diameter of the base: 170 mm
The weight of the whole: 400 g