Product description: Cytron SC08A - 8 channel servo controller - UART
8-channelservocontroller. It communicates via aUARTserial interface with a microcontroller or with a computer viaUSBusing aUSB to UART converter. It has a resolution of0.25 μS.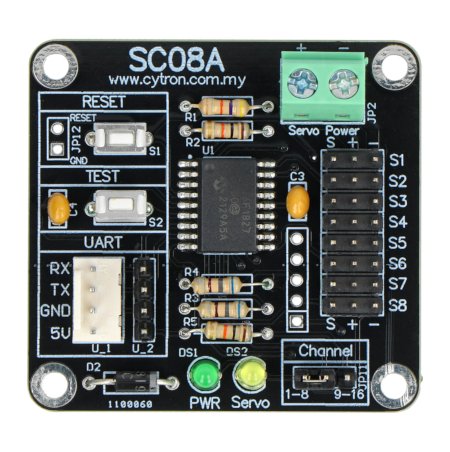 The board has soldered connectors to connectservosand power supply.The manufacturer has prepared a graphical application that allows you to easily control the servos.The application can be downloaded from GitHub.
Technical specification of the controller
Supply voltage: 5 V
Number of channels: 8
Servo supply voltage: 4.8 V to 6.0 V
Resolution: 0.25 μS - 8000 steps
Velocity resolution: 1uS/s - 0.09°/s
Servo pulse range: from 0.5 ms to 2.5 ms
Communication: UART interface (TX, RX)
UART communication speed: 9600 bps
Possibility to connect two controllers to control 16 servos
Board dimensions: 49 x 46 mm
Set contains
Cytron SC08A servo controller
3-pin and 4-pin connectors and pins for the case
Plastic spacers