Product description: Royal Resin Crystal epoxy resin 5 kg - casting - colourless
Clear, two component epoxy resin manufactured by Royal Resin. Crystal clear and colourless, has a high gloss. The set consists of resin and hardener which should be mixed in ratio 1:0,27. The material cures at room temperature within 20 hours. Maximum cure is achieved after 72 hours. After hardening, waterproof, hard and strong material, resistant to UV radiation, is obtained. Epoxy resin is used in manufacturing and repairing processes. It has absolute adhesion to most surfaces. It can be used wherever it is necessary to coat, laminate, cast or protect elements. The resin can be combined with additional components, such as epoxy resin dyes, to obtain any colour.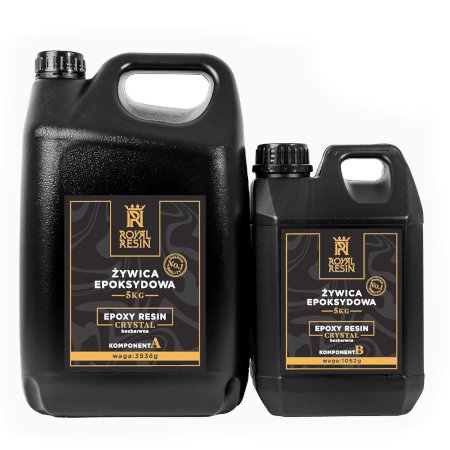 The set consists of two components: resin and hardener.
Royal Resin Crystal's performance characteristics
Used in production and repair processes
Used for coating, laminating, casting, repairing and protecting items such as jewellery, 3D flooring, crafts and tabletops
Resistant to most chemicals
Resistant to UV light and yellowing
Odourless, solvent free
Electrostatic, self-leveling
Low viscosity and minimal shrinkage
Technical Specification
Colour
Transparent
Mass
5 kg
Shelf life of resin
12 months from date of production
Mixing ratio
1:0.27 (e.g. 100 g resin : 27 g hardener)
Working time
20 min. to 40 min.
Curing time
Up to 20 hours; fully cured after 72 hours
Shrinkage value
Minimum
Recommended thickness of a single layer
Up to 5 cm
Set contents

Component A - resin: 3938 g
Component B - hardener: 1062 g