Product description: Royal Resin Crystal epoxy resin 0,5 kg - casting - colourless
Two component epoxyresinfromRoyal Resin. Crystal clear andcolourless with high gloss. It is UV resistant as well as waterproof so can be used wherever coating,laminating, casting orsecuringis required. The resin cures at room temperature for up to 20 hours.Fullcure is achievedaftera maximum of72 hours. It can be combined with additional ingredients, such asepoxy resin dyes, to obtain any color.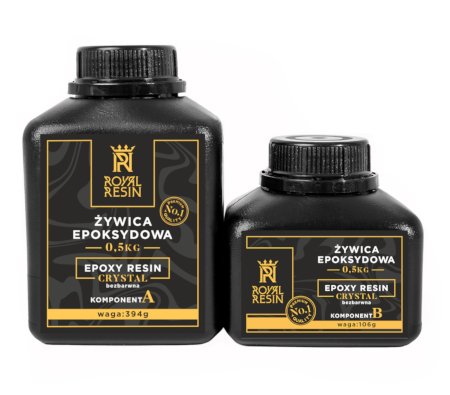 The kit consists of two components: resin and hardener.
Features of Royal Resin Crystal
Stable UV coefficient, so resin does not turn yellow
Odourless, because it does not contain solvents
Resistant to most chemicals
Electrostatic, self-leveling
Adheres to most substrates
Low viscosity with minimal shrinkage
Used for coating, laminating, casting and protecting items such as jewelry, 3D flooring, crafts and tabletops
Technical Specification
Color
Transparent
Shelf life of resin
12 months from date of production
Mixing ratio
1:0.27 (e.g. 100 g resin : 27 g hardener)
Working time
20 min. to 40 min.
Curing time
Up to 20 hours; fully cured after 72 hours
Shrinkage value
Minimal
Recommended thickness of a single layer
Up to 5 cm
Mass
0,5 kg
Set contents

Component A - resin: 394 g
Component B - hardener: 106 g