Product description: ARCADE console for MakeCode Arcade - Retail Pack - Kitronik 5319.
Kitronik Arcadeis a small console for games created by yourself inMakeCode Arcadeor using JavaScript or Python. The console is powered by threeAAbatteriesorby a microUSB cable. Kitronik Arcade provides both fun and helps to expand your knowledge ofelectronics and programming.TheRetail Packis enclosed in an attractive plastic container with additional AA batteries, a microUSB cable and a short instruction manual.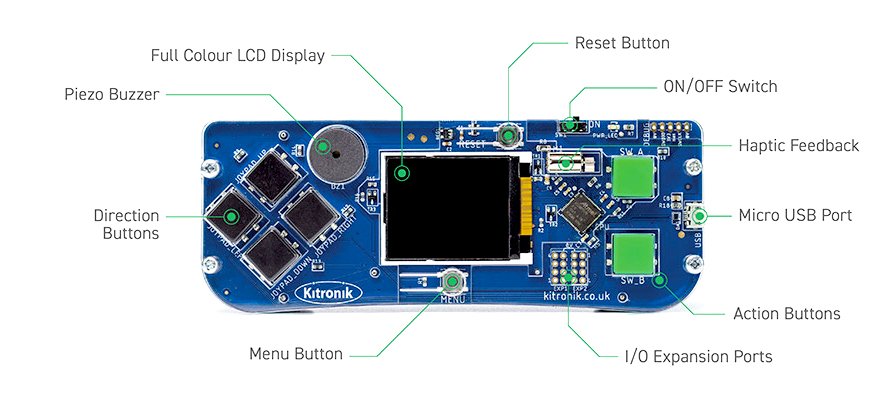 The layout of the elements on the Arcade console board.
Construction of the Arcade console
The console is equipped with a1.77" color LCD screen, which is located in the center of the board, together with the Reset button and Menu. On the left side of the board there aredirectional buttonsandapiezobuzzer. The right side of the board consists oftwo action buttons anda vibration motorusedto generate haptic feedback (this works on the same principle as in the pads popular on the console market). On the edge of the Arcade console there isan On/Off power switchand amicroUSBconnector for its alternative power supply. On the bottom, there arethree AA battery baskets, two of which have been placed in such a way as to ensure a firmgrip on the console.
For advanced
For more advanced users of the Arcade console, additionalI/Oportsandholes for debugger connections are placed on the board.The manufacturer allows you to write your own programs in JavaScriptor Python.This allows you to create your own, more complex games. On GitHub website there is a repository witha bootloader.
Additional materials
The manufacturer providesadditional materials,including ready-made games and manuals.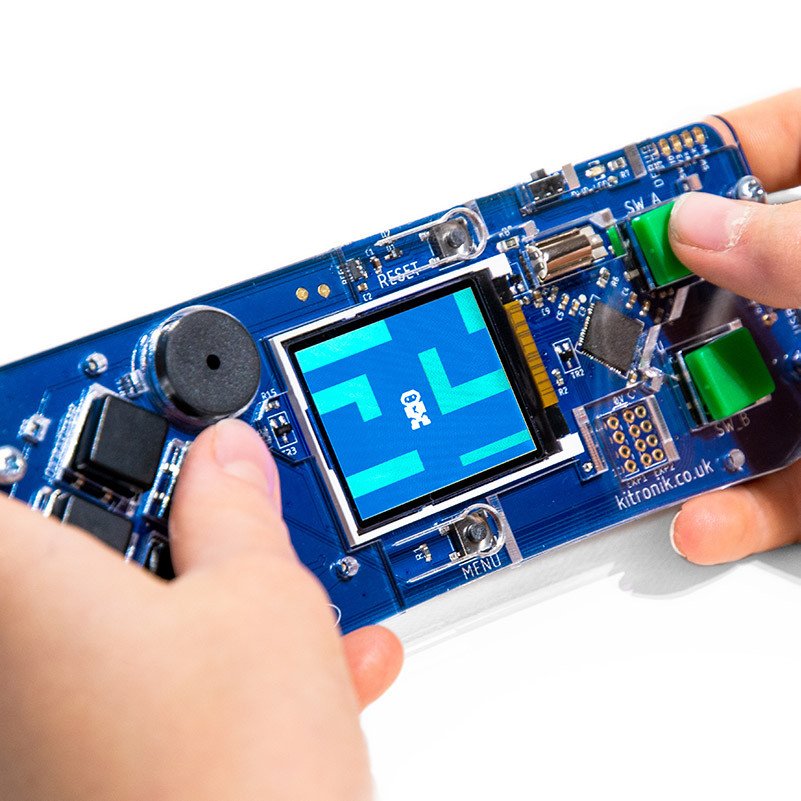 Kitronik Arcade console.
Combining fun with learning
The MakeCodeArcadeplatform has aset of sample game codes of varyingdegrees of complexity, written in different programming languages. MakeCode also includescourses forcreating games, graphics, sprites, movement sequences or loops. It is primarily aneducational platformfor both beginners and more advanced users.
Console specifications Kitronik Arcade
Processor: Atmel SAMD51J19A
Power supply: 3x AA battery or microUSB connector (5V)
Screen diagonal: 1.77'' LCD
Screen resolution: 160 x 128 px
Current consumption: approx. 80 mA (depending on application)
Battery pack life (3x AA): approx. 20 hours (depending on application)
Dimensions: 155 x 60 x 28.3 mm
The set includes
Kitronik Arcade console
MicroUSB cable
4x GP AA zinc-chloride battery
Transparent plastic container
Brief instruction manual