Description: DC Dagu DG02S-2M 48:1 3V angular double-shaft motor - 2 pcs.
DC Dagu bevel motor with 48:1 gearbox and 3V supply. Ideal solution for building driving robots or RC cars, compatible with many accessories available on our website such as wheels,motorcontrollers, ready chassis.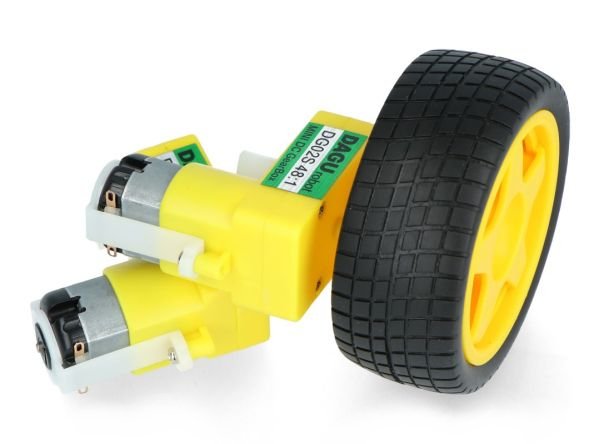 DC Dag engine with wheel mounted.
DC Dag motor specification
Power supply voltage: 3 V
Power consumption: 125 mA (max. 170 mA)
Gearbox: 48:1
Speed: 65 ± 10 rpm
Torque: 0.8 kg*cm (0.078 Nm)
Connection: red and black wire
Shaft diameter: 5.4 mm
Shaft type: metal
The shaft is cut on both sides
The motor has a double shaft for mounting the encoders
Motor weight: 35 g
Set contains 2 pieces