Product description: Key Kit - Move Motor robot servo gripper set - for BBC micro:bit - Kitronik 5696.
TheBBC micro:bitgripperset is a great addition to theMove Motorrobot, which greatly extends the capabilities of the project. The special design allows the module to be mounted bothverticallyandhorizontally. The kit includes a dedicatedmounting screw. The work of the gripper is controlled by means ofa servo mechanism, which opens and closes the jaws of the handle accordingly. The maximumspan of the jaws is 125 mm. The kit requires self-assembly anddoes not includethe main robot moduleMove Motor.
Special features
Easy to use and install module
Dedicated to the educational robotMove Motor
Control of operation by means of a servo
Servomechanism:

Scope of work: 180°
Low operating voltage
Power supply from Move Motor via the connection cable (included in the package)

Supported development environment: MicroPython, MakeCode
Dimensions:

Overall length: 115 mm
Width (when closed): 70 mm
Width (when opened): 125 mm
The height of the servo: 38 mm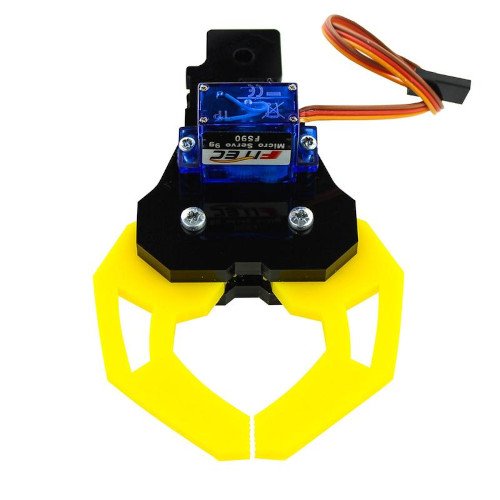 Key Kit gripper compatible with Move Motor robot.
Kit contents
Mini servo 180°
Accessories for servos
Mounting screws M3 x 16 mm - 2 pcs.
Metal washer M3 - 1 pc.
Mounting screws M2 x 12 mm - 2 pcs.
Mounting screw M4 x 25 mm - 1 pc.
Laser-cut Plexiglas elements - 6 pcs.