Description: Kitronik - Robot construction kit :Move Motor - for BBC micro:bit - Kitronik 5683.
Kitronik :Move Motorrobot kit based on BBC micro:bit module. The robot is driven by two motors with large wheels, has an ultrasonic distance sensor and bounce sensors for line tracking. The board also features a buzzer, servo connectors and a pencil hole fordrawingwhile the robot is moving.
Attention!
The kit does notinclude aBBC micro:bitminicomputerorAAbatteries, theseitemscan be purchased separately.
Educational advantages of the robot kit :Move Motor
When building a robot, you will learn the basics of movement, how to use light and soundto detect and avoid obstacles,and howto program the robotto follow a drawn line. The robot is equipped with two motors with speed control and two wheels with rubber tyres. The BBC micro:bit module is used to control the robot. The whole is powered by 4 AA batteries. The robot can be programmed in graphical environment - MakeCodeorin text environment - Python.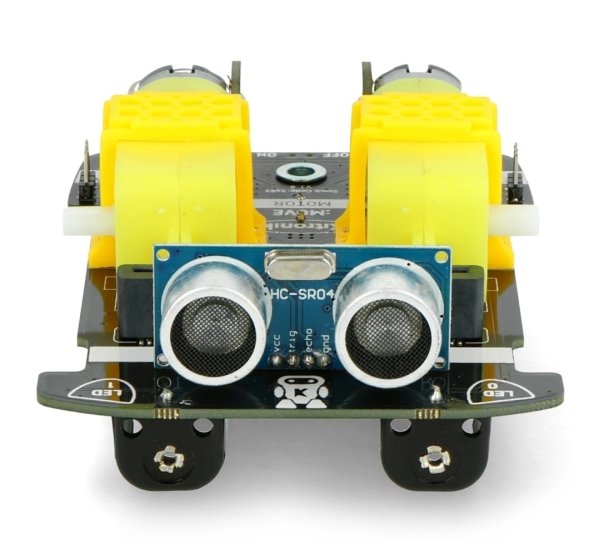 Robot Kitronik :Move Motor.
Main features of the robot set
Provides basic robotics and programming through play
The manufacturer provides a number of free instructions and manuals
No soldering required
Equipped with two DC motors
It has an ultrasonic distance and reflective sensor to track lines
Built-in buzzer, pencil hole and 4 coloured ZIP LEDs
Two output pins for servomotor connection
Basket for fourAA batteriesto power the whole (not included)
Equipped with a power switch
Programmed in MakeCode block or Python text environment
Dimensions: 111 x 90 x 67 mm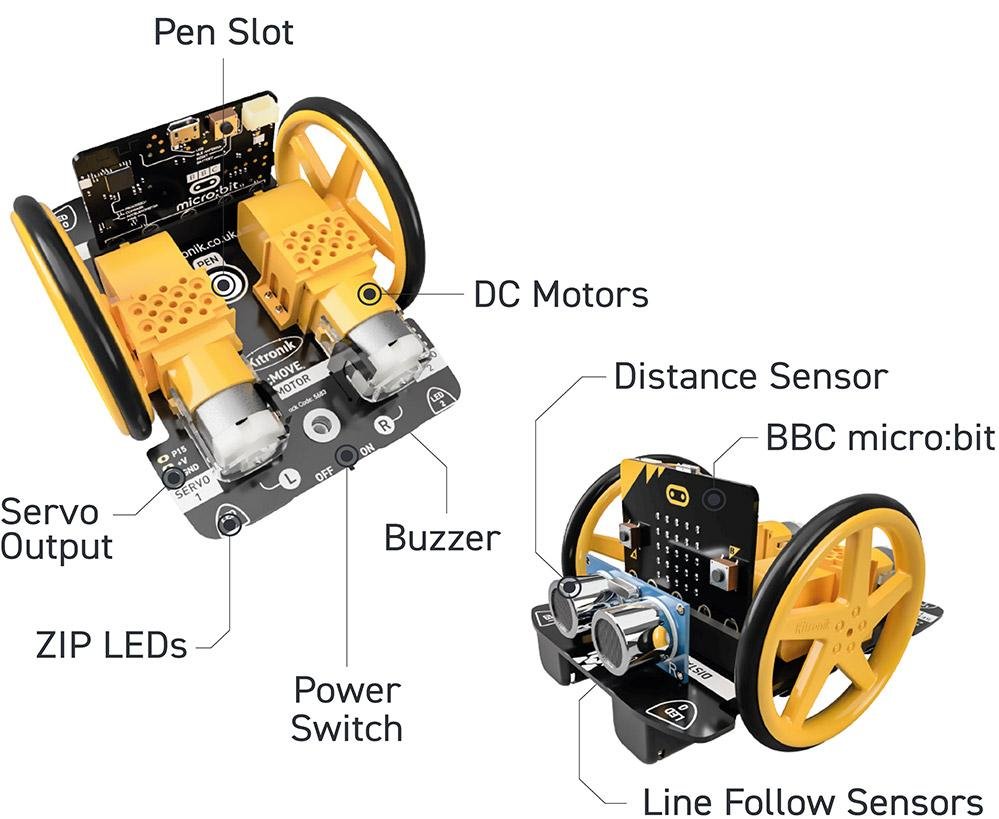 The layout of the elements.
The set includes
Robot chassis :Move Motor
Wheels and tyres - 2 pieces
Brochure