Product description: SPI FLASH Breakout - module with Flash memory W25Q128 - 128 Mb / 16 MB - Adafruit 5643
Module manufactured by Adafruit with Flash memory 128 Mb / 16 MB equipped with W25Q128 chip. It has a built-in voltage converter , so it can work with boards powered by 3.3 V and 5 V. It uses the SPI interface to communicate with connected devices. It is used in projects that require the use of additional memory to store more data, for example, images to support the display or audio clips.
Arduino compatible product!
The manufacturer has prepared a detailed user guide that will help you get started with the module. In it you will find, among others, a connection diagram of individual pins and a sample program code - check it out!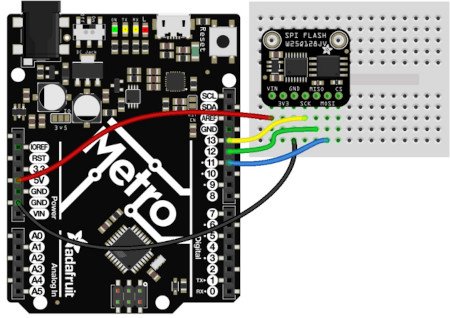 Connection diagram of the module with the Metro board and breadboard (not included, sold separately).
Pinout description and connection diagram
The board has outputs in the form of soldering pads , to which the goldpin strip included in the set should be soldered. The module can also be connected using a contact plate and appropriate wires - without the need for soldering. Individual pins should be connected in accordance with the following relationships:
VIN - 5V power pin
3V3 - 3.3V power pin
GND - system ground
SCK - clock line of the SPI bus
MISO - input data line of the SPI bus
MOSI - output data line of the SPI bus
CS - Chip Select for SPI
Technical specification of the SPI FLASH Breakout module
Type: memory module
Memory Type: Flash
Capacity: 128MB / 16MB
Built-in chip: W25Q128
Communication interface: SPI
Supply voltage: 3.3V / 5V
Board dimensions: 20.3 x 17.7 x 3.5 mm
Weight: 1.4g
Kit contents
SPI FLASH Breakout - module with Flash memory W25Q128 - 128 Mb / 16 MB - 1 piece
Goldpin strip 1x8 - raster 2.54 mm - 1 piece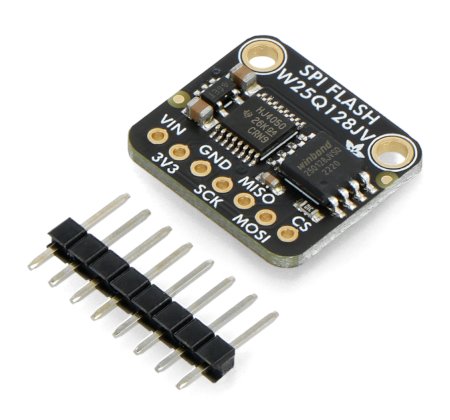 Components included in the set.