Description
Digitalisolator of signal I2Cffrom series Gravity. It protects the sensors fromelectrical interferencescausing a read error through theisolation of I2C signaland providingisolated powerto the sensor. Interferences of this type can occur, for example, in the case of using several sensors of the purity of water or the pump where the medium is a conductive fluid.The set includes 2 4-pin goldpin connector and 2 wires suitable forGravity DFRobot IO Expansion Shieldand modules from series Gravity. In our offer, we also have ananalog isolator.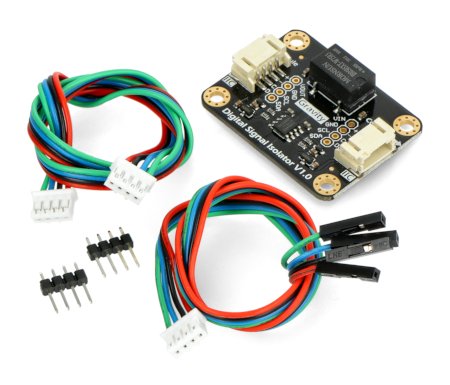 Note:
The module must be powered with 5 V
Module, during operation, consumes a lot of current up to 150 mA, it is better to use an external power source
The sensor and the microcontroller (e.g. Arduino) are isolated, do not connect them together
The module can become hot during operation
Pins
The system has four pins on special connectors, to which the wires are in the kit.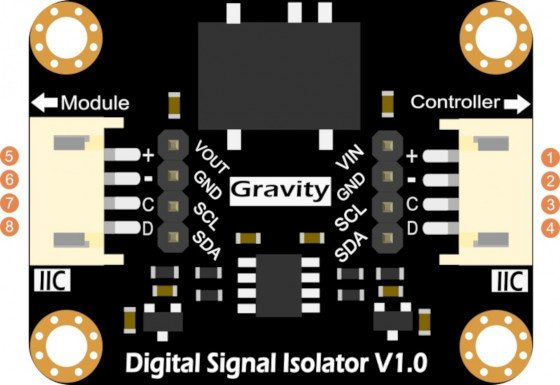 No.
Pin
Description
1
+
Supply voltage: 5 V.
2
-
The ground of the system.
3
C
Clock line of I2C interface.
4
D
Data line of I2C interface.
5
+
Isolated supply voltage: 5 V.
6
-
Insulated ground of the system.
7
C
Insulated clock 

line

of the I2C interface.
8
D

Insulated data line of the I2C interface.
Specification
Working voltage: 5 V

Connector type: PH2.0-4P

Interface: I2C (IIC)

Dimensions: 42 x 32 mm

The end is uninsulated (Arduino page)

Supply voltage: 5

± 0.15 V

Current consumption with no load: 15mA

The end is isolated (side of sensor)

Output voltage: 5

± 0.15 V

Output current: 150 mA