Description: DFRobot micro:Maqueen Mechanic - Beetle - kit with gripper and servo - DFRobot ROB0156-B
A set of accessories for the educational robotmicro:Maqueen. The kit includes items such as aservowith a range of0° to 180°, a holder for the servo, anda grippermade of high qualitymetalthat allows you to pick up various items.
Note:
This kit does not include theMaqueen Plusplatform, Maqueen Lite platform, BBCmicro:bitminicomputer orbattery. Components can be purchased separately in our store. Please check theBBC micro:bitoffer for more details.
Servo Specifications
Operating range of the servo: 0° to 180°.
Servo weight: 12 g ± 1 g
Metal servo forearm with gears made of high quality material
Standby current consumption: up to 45 mA
Control ports: S1, S2, S3 (with Maqueen Plus robot)
SupportsMaqueen Plus, Maqueen Lite and newer
Kit contents
Servo
Metal gripper
Metal gripper forearm
Metal grapple top panel
Metal grapple bottom panel
Gear - metal forearm for servo
Mounting parts:

copper spacer M3 x 15 mm - 2 pcs.
Copper spacer M3 x 17 mm - 3 pcs.
Screw M2.5 x 5 mm - 5 pcs.
Screw M3 x 5 mm - 20 pieces.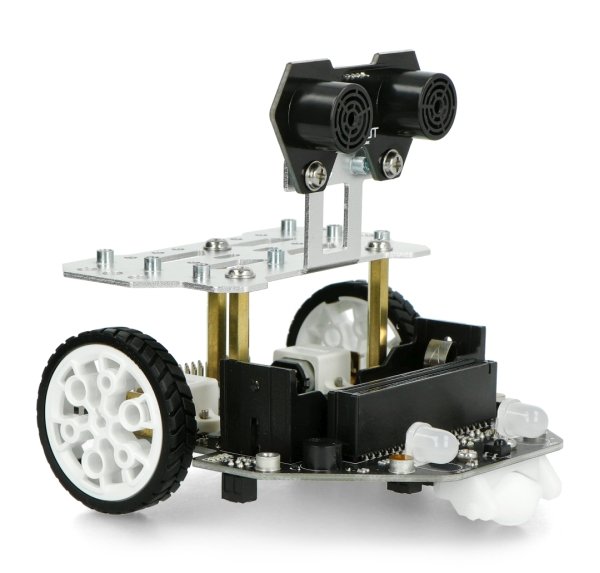 Educational robot micro:Maqueen Plus. The robot is not included in the set, you can buy it separately in our shop.
Maqueen Plus - an advanced educational robot platform from DFRobot
MaqueenPlusis an advanced robot platform designed to work with the BBC micro:bit module. The robot has components that enable it to recognize objects using AI (artificial intelligence). Designed for intermediate to advanced users, for beginners we recommend the basic version - Maqueen Lite.