Product description: Pololu VNH5019 - Single channel 24 V / 12 A motor controller
ST's VNH3SP30 single-channel H-bridge module allows you to control motors supplied with a voltage range of 5.5 V - 24 V with a continuous current of up to 12 A, instantaneous up to 30 A. The system allows you to change the direction of rotation of the motor and speed control by PWM signal.
VNH5019 controller specifications
Supply voltages: 5.5 V - 24 V
Continuous output current: 12 A
Maximum instantaneous current: 30 A
PWM frequency: up to 20 kHz
Current measurement output
LED indicators
Protection

Against incorrect power supply connection
Supply voltage too high and too low
Against short-circuit to ground and supply voltage
Included:
module with VNH5019 controller
power supply connector
goldpin connector
PWM signal inputs are connected to ground. Therefore the motor power outputs are disabled by default. On the outputs of INA, INB direction of rotation control no potential is set by default.
The LEDs on the board are very helpful in detecting connection problems. The brightness increases with the speed of the motor and the color changes with the direction of rotation.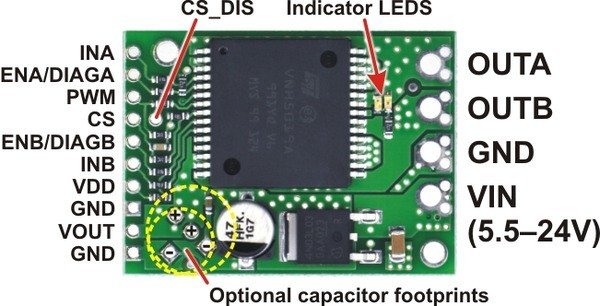 | | |
| --- | --- |
| Pin | Description |
| VIN | 24 V power supply |
| VDD | Power supply for logic part 2,5 V to 5 V |
| VOUT | Voltage output after reverse power protection circuit. |
| OUTA | Output of half-bridge A of the motor supply |
| OUTB | Output of half bridge B of motor supply |
| PWM | PWM signal input pulled to ground by default (up to 20 kHz) |
| INA/INB | Inputs for changing the direction of rotation. Not connected by default. |
| GND | GND |
| CS | Current measurement outputs. 140mV per 1A. Active when CS_DIS pin is in low state. |
| ENA/DIAGA | Blocking half-bridge A. Low state blocks the operation of half-bridge A. Default state high. |
| ENB/DIAGB | Half bridge B inhibit. A low state blocks the operation of half bridge B. Default state is high. |
| CS_DIS | Locks the current measurement output. A high state blocks the CS output. Default state low. |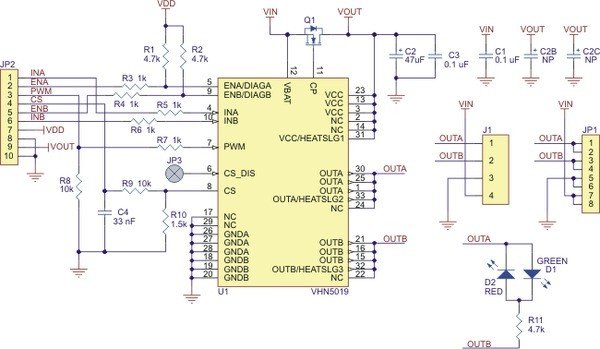 Diagram of the VNH519 module.
| | | | |
| --- | --- | --- | --- |
| | VNH3SP30 | VNH2SP30 | VNH5019 |
| Supply voltage | 5.5 - 16 V | 5.5 - 16 V | 5.5 - 24 V |
| Resistance of MOSFET | 34 mΩ typical | 19 mΩ max. | 18 mΩ typical |
| Max. PWM frequency | 10 kHz | 20 kHz | 20 kHz |
| Current measurement output | n/a | 0.13 V/A | 0.13 V/A |
| Minimum level of logic signals | 3.25 V | 3.25 V | 2.1 V |
| Time to Overheat at 20 A | 8 s | 35 s | 20 s |
| Time to superheat at 15 A | 30 s | 150 s | 90 s |
| Continuous current | 9 A | 14 A | 12 A |