Product description: Cytron SmartDriveDuo MDDS10 - two channel motor controller 35 V / 10 A
Dual channel intelligent DC motor controller. Continuous current per channel 10 A (instantaneous 30 A). Supply voltage from 7 V to 35 V. Features interfaces such as UART, PWM, RC and analog output. Suitable for building fighting robots controlled by RC remote control.
Product compatible with Arduino
Sample code and detailed information can be found in the user guide.
On the module there is a connector for connecting RC controllers allowing remote control of motors. Thanks to digital and analog interfaces used, module does not require additional microcontroller to work. More information in user manual.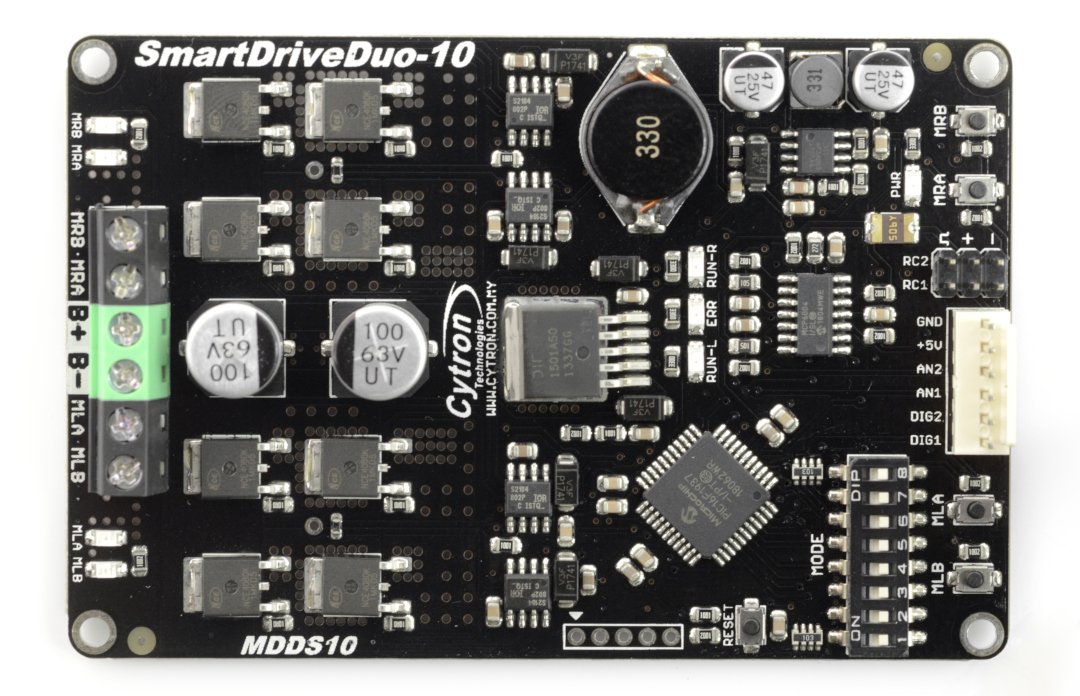 Attention!
Module does not have reverse polarity protection, check carefully power supply connection.
Technical specification of the controller from Cytron
Supply voltage: from 7 V to 35 V DC
Logic part voltage: from 1.3 V to 5 V
Average current per channel: 10 A (momentary 30 A max. 1s)
Number of channels: 2
PWM speed control frequency up to 16 kHz
Indicator lights: low voltage, high voltage
Protection against overheating
Interfaces: UART, PWM, RC, Analog
No reverse polarity protection
Dimensions: 101,09 x 66,8 mm
Set contains
Cytron MD10C motor controller
6-pin plug and pins for the case - for self-assembly
Plastic spacers
2x 3-pin cable
Manual