Product description: SNMP Agent AGEDI-B in a DIN housing
Product designed tomonitor indications from other devices, using MODBUS RTU. AGEDI-B enables cyclic temperature reading from two sensorsfrom DS1920 family, connected to 1-Wire interface. The device has eight I/0 ports, which allow for remote reading and changing their status. The product in a housing adapted for mounting ona DIN rail.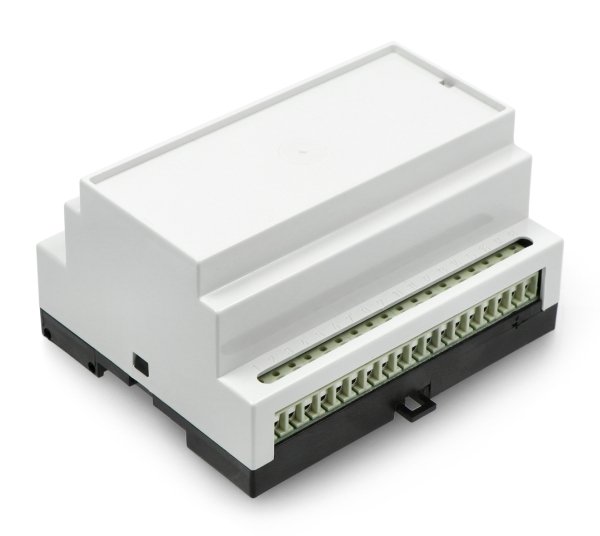 SNMP Agent AGEDI-B in a DINrail mounted housing.
The SMP agent can track up to fourdevices simultaneously, each of which cangenerate up to 120 parameters. AGEDI-B analyzes indications obtained from external devices and sends to them NMS notifications for defined conditions.
Supported functions
Web server designed for remote configuration, status preview and device reset
SNMP server for reading operating conditions of monitored devices. This function is complemented by the ability to send notifications to indicated IP addresses from the NMS Traps list. There is a possibility to limit the access to readings through the list of NMS addresses
DHCP client
Support of the NBNS protocol
Mechanism of locating devices in the network with dynamic network settings assignment
TFTP server for remote software reloading
ACL access control list to the web server
SNMP agent specification AGEDI-B
Supply voltage: 7 V to 26 V
Industrial module type:EthernetGateway

, Modbus Gateway, Converter, Serial Port Server

Port type I/0: 1x

Ethernet RJ45, 1x RS232, 1x RS485

Number of inputs / outputs: 8 / 8

10Mbit/s Ethernet interface

RS-232 serial interface configurable to 230400 bps

RS-485 serial interface configurable to 230400 bps

RS-485 serial interface configurable to 230400 bps

Operating temperature: 0°C

to 55°C

Dimensions: 105 x 86 x 58.5 mm