Description: Siglent Oscilloscope SDS 1104X-E
A4-channel digital, phosphoricoscilloscopeof a new generation with low noise levels. It measures up to38 types of automatic measurements. It has a fast hardware function Pass / Fail. Equipped with a7-inch TFTLCDdisplay, multilingualmenu and built-in online help.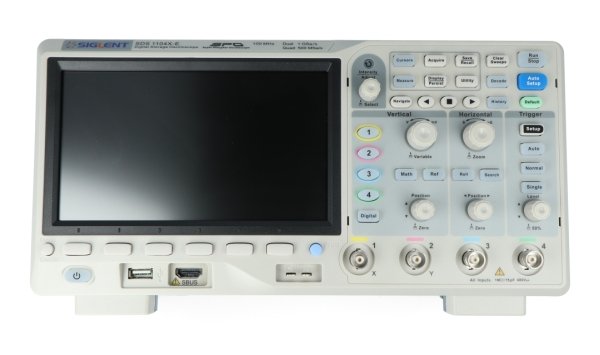 Siglent 1104X-E oscilloscope.
You will see more details of each signal using the built-in Zoom technology and recording up to 14 Mpts long. You will be able to sample and record longer periods at higher resolution.
The Super-Phosphor Osciloscope (SPO) technologyensures that the signal refreshes very quickly, giving you a much brighter saturation trace for events occurring at higher frequency and darker for those occurring at lower frequency.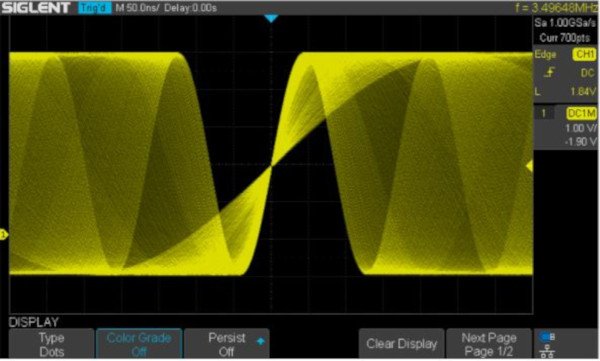 The color temperature display is similar to the saturation level recording function, with the difference that the event recording is represented by different colors (color "temperature"). Red represents more frequent events and blue points appear at a lower frequency.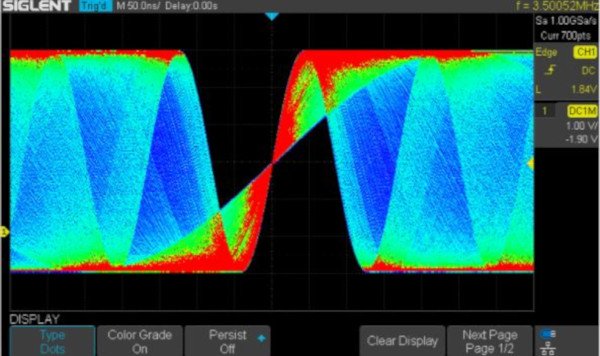 Thanks to the recording of signal waveforms up to400 000 wfm/s, the oscilloscopewill record unusual and unlikely events very quickly and easily.
Features of the oscilloscope
100 MHz band
7" TFT LCD display (800 x 480 px resolution)
4 Channels
Sampling 1 GS/s
Memory 14 Mpkt
Oscilloscope functions
SOP technology

MSO, 16 digital channels

USB AWG module

USB adapter Wi - Fi

Interfaces like: USB

Host, USB Device (USB - TMC), LAN Pass / Fail, Trigger Out
Siglent SDS 1104X-E oscilloscope specification
Name
Description

The band

100 MHz

Sampling rate

1 GS/s

Number of channels

4

Maximum memory width

7 Mpts/CH without interlacing; 14 Mpts/CH

with

interlacing

Maximum frame registration speed

100,000 wfm/s (normal mode)

400,000 wfm/s

(sequence mode)

Trigger types

Edge, Slope, Pulse width, Window, Runt, Interval, Dropout, Pattern, Video

Triggering and decoding (standard)

I2C, SPI, UART/RS232, CAN, LIN

Display

7" TFT LCD (800x480 resolution)

Maximum memory

14 MB/can (one channel)

7 MB/can (two channels)

Power supply

AC 100-240 V, 45 Hz - 440 Hz, 50 VA
Included:
Siglent Oscilloscope SDS 1104X-E

Power cord
User Manual CD + Catalogues
USB cable A + B
4 oscilloscopic probes
User Manual (Quick Start)