Description
Converter I2C fordisplay with the HD44780 controller so that the screen requires only two lines - SDA and SCL. Via the bus, from the level of theArduino, can be controlled the displayed text and the backlight, including turning them off or on at any time. On board is alsoa potentiometerto adjust the contrast.
 
In order to use a library for theArduino, the system should be soldered in accordance with the picture above.
Settings
Converter of I2C bus
Installed resistors pulling up the lines of the I2C bus - 4.7 k Ω
Converter based on PCF8574 (documentation)
Soldered potentiometer to adjust the contrast
The ability to control the backlight through the I2C bus
The possibility of changing the bus address via soldering jumpers A0, A1, A2
Addressing I2C
Depending on what chipset, this module can have different address spaces:
Chipset PCF8574 - 0x20
Chipset PCF8574T - 0x27
Chipset PCF8574A - 0x38
Chipset PCF8574AT - 0x3F
To be sure, we recommend the use of a program for ArduinoI2C Scanner that reads the I2C addresses for all connected devices.
Leads
The system has four leads and a jumper which putting out causes turning off the backlight of the screen. On the board is also goldpin strip which is fixed to the populardisplays based on HD44780 driver. All leads are soldered.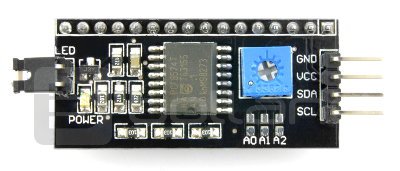 | | | |
| --- | --- | --- |
| No. | Name | Description |
| 1 | GND | Mass. |
| 2 | VCC | Power +5 V. |
| 3 | SDA | The data line of the I2C bus. |
| 4 | SCL | Clock line of the I2C bus. |
Connecting of the display 
On the back of the tile is 16-pin, male strap goldpin to solder the display based on the HD44780 controller.