Description of product: STM32F051 - Discovery - STM32F051R8
The module allows you to implement projects based on the popular 32-bit microcontroller STM32. Thanks to Discovery you can test the capabilities of the ARM Cortex M0. The creation of a software is facilitated by libraries and many examples available on the websiteof the company ST.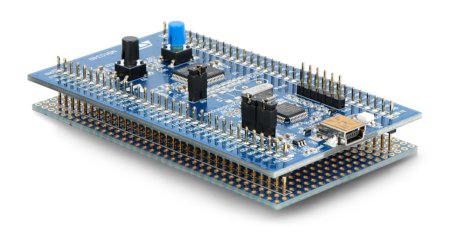 View of the STM32 Discovery F3 module.
For programming of the system there isthe miniUSB cableand a development environment, for example, the freeCooCox. Installation of the systems will be possible with a breadboard and connecting wire.

Specification 
STM32F051R8T6 microcontroller:

Core: Cortex M-0

Clock Frequency 48 MHz / 38 DMIPS

64 KB Flash
8 KB of SRAM
Housing LQFP64

The debugger ST-Link/V2 is placed on the board with the opportunity to work as a standalone device with the release of SWD
The system is running on USB or external power supply: 5V/3.3 V
On the board there are also:

Four LEDs
(two available to user)
Two buttons (user and reset)
Inputs goldpin for I/O ports

The set also includes a universal mounting board that allows you to create your own layouts
A detailed description and example program can be found on the manufacturer's website:link.