Product description: justPi THT CF carbon 1/4 W 360 kOhm resistor - 30 pieces
The set consists of 30 pieces of resistors. The elements are designed for THT through-hole mounting. The resistance is 360 kΩ and the tolerance is 5%.
Carbon resistors for through-hole installation
All electronic devices that surround us are made of elements that, when combined in an appropriate way, allow specific functions to be performed. One of the most common passive electronic components used in various devices are THT mount carbon resistors.
In addition to standard PCB mounting, resistors can also be mounted directly on wires. Remember to protect them with heat shrink sleeve.
The elements are sold in packs of 30 pieces.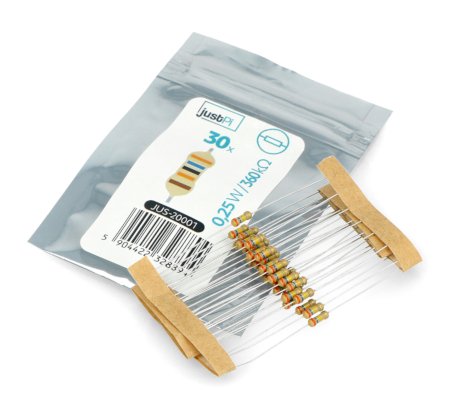 JustPi THT CF carbon 1/4 W 360 kΩ resistor - 30 pieces.
Technical specification of the resistor
Resistance: 360 kOhm
Power rating: 1/4 W
Tolerance: 5%
Mounting: THT through-hole