Description
10.1" screen for Raspberry Pi with 1024 x 600 px resolution. It cooperates with RaspberryPi in versions 3+, 3, 2, B+ viaUSB cable and TTL to LVDS converter equipped with HDMI, VGAor RCAconnector.
Connection with Raspberry Pi
To run the screen, connect the screen to the Raspberry Pi with a converter cable. The screen should be powered by a5-volt power supply, the included USB - DC 5.5 mm cable is included.
The screen works with the latest Raspbian system without the need to install drivers. However, in order for the screen to display correctly you need to change the resolution in the configuration file. To do so, open config.txt file with a command:
sudo nano /boot/config.txt
and then add the following instructions at its end:
max_usb_current=1
hdmi_group=2
hdmi_mode=87
hdmi_cvt 1024 600 60 6 0 0 0
hdmi_drive=1
After saving the file and restarting the raspberry, the image should work properly.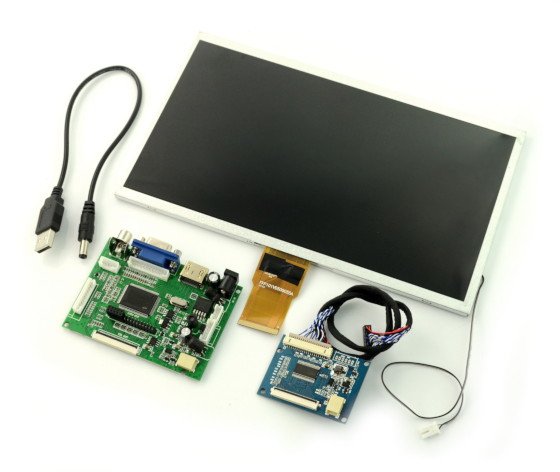 Specification
Type: LCD
Diagonal: 10,1"
Resolution: 1024 x 600 px

Works with: RaspberryPi version 3+, 3, 2, B+
The set includes
Screen 10.1"
Board / module -driver with HDMI connection to the screen
Plate with buttons
DC - USB cable