Attention!
The product has been discontinued. Check other products incategory.
Description: Creality LD-001 - resin + UV
3D printer made by Creality is designed to print elements with dimensions of 120 x 120 x 70 mm. The size of the printer: 360 x 240 x 220 mm.UV technologyandliquid light-cure resinwere applied for printing. The printer allows you to print, for example,dental elements.
Accessories
In the kit, except for the parts needed to assemble the printer, it also contains additional accessories. Tools that help in the process of printing a 3D model.
Included
The subject of the sale is the original printer by Creality 3D.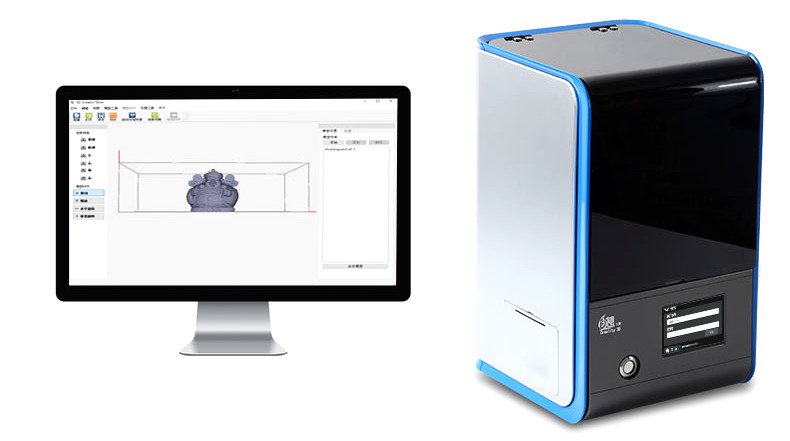 Main features of Creality CR-X Dual-color printer
Print Offline and Online- System 3DCreator Slice supports printing offline and online. Not only can you use an ethernet cable but also wi-fi connection or a mobile USB device.

Quick project creation- Creation of projects is even 5 times faster than in other printers. In the Open sourcesystems such as CW 20m STL file will be created in 21 minutes, whereas in 3D Creator Slicerit only takes 3 minutes.

Innovative trough- Regulated daily, easier filling up, more economical.

Easier alignment- Unique, automated alignment system, very easy to use.

Quick screen replacement- The printer has a very fast and simple procedure for replacing the LCD.

High precision of printing- Printing accuracy of complex models is from 20 to 50 microns.Print surface becomes soft and smooth and exudes a luster of resin.
Attention!
The device was assembled by the manufacturer.
Technical specification
Power supply:

from 110 V-220 V (AC - AC)

Working voltage:

12 V (built-inpower supply)

Full power:
120 W
Display:
3.5" touch
Print speed:
from 20 mm/h
Precision printing:
± 0.02 mm
Layer thickness:
from 0.005 mm to 0.1 mm
X, Y Resolution:

47 µm

Supported filament:

liquid light-cure resin

Operating system:
Windows
Mode of operation:
Online, SD card
File format:
STL, SLC
Light source:

built-in UV lamp, wavelength: 405 nm

Software:
3D Creator 

Slicer

Print size:

120 x 120 x 70 mm

The dimensions of the printer:
360 x 240 x 220 mm
Weight:
6.4 kg