Product description: Three-phase solid-state relay SSR Hoymk D4825HK 3 x 25A 380 V AC / 32 V DC
SSRHOYMKthree-phase semiconductor relaycontrolledfrom 3 V to 32 V DC,capable ofswitching devices from 24 V to 380 V AC with25A for onephase.The relay is made of solid-state components and has a high sensitivity and high switching speeds of up to 10 ms.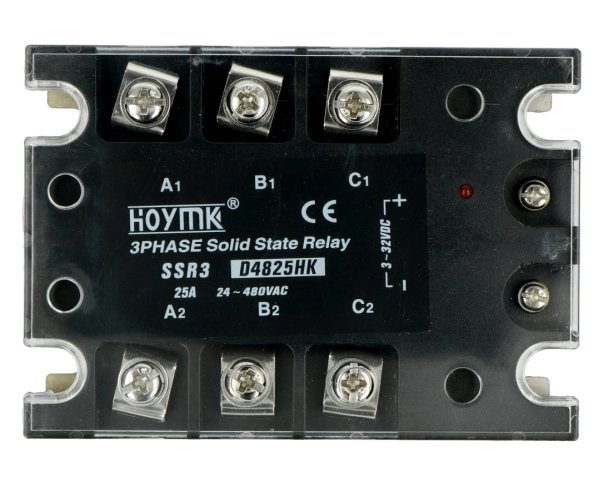 The SSR HOYMK D4825HK 3x25A three-phase solid-state relay.
The solid-state relays have another important advantage. The absence of moving parts translates into quiet and trouble-free operation. They are very popular in automatic control systems. In order to ensure long and stable operation under limit loads, it is recommendedto use heat sinks.
SSR HOYMK relay specifications
Output voltage: 24 V to 380 V AC
Control voltage at the input: 3 V to 32 V DC
Maximum current load: 25 A for one phase
Control current at the input: 10 mA to 25 mA
switching time: up to 10 ms
Insulation breakage voltage: ≥

2000 V AC / 1 min

Operating temperature: -40°C to 80°C

Signal LED
Dimensions: 105 x 75 x 32 mm