Attention!
The product has been discontinued. Check other products in category.
Product description: 3D Printer Snapmaker V1 3in1 - laser module, CNC, 3D printing in enclosure
A set consisting of Snapmaker V1 printer and a chamber created specifically for this device. Working with the entire set allows you to significantly increase safety and comfort of work. The printer is equipped with multiple systems to protect the user from any hazards that may occur during the operation of the device.Snapmaker'smodular3D printer is made entirely ofmetal, so assembly is quick and easy. It allows to create3D modelson the workspace of125 x 125 x 125 mmwith the use offilamentwith a diameter of1.75 mm. The device was also equipped with additional modules for sculpting -CNCand engraving -laser.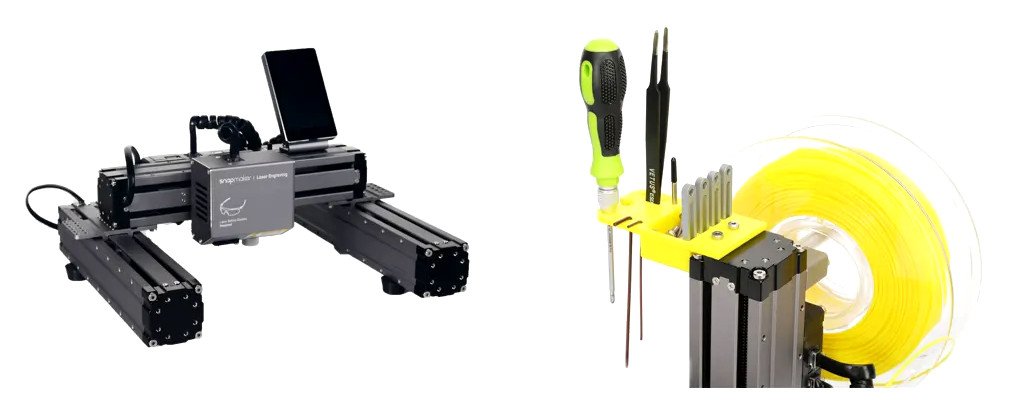 Modular construction of 3D printer Snapmaker.
Modular, metal construction of the Snapmaker printer
A solid metal framethat is 10 times stronger than plastic alternatives. The modular design not only makesassembly take 10 minutes, but ensures compatibility with future upgrades and allows you to createyour own printer molds.
Botland isan official distributorof Snapmaker printers in Poland. Buying from us you have a guarantee of receiving original equipment with high quality accessories.
Simple connection system in Snapmaker
The printer has a simple module with RJ sockets and pictorial connector designations. This makes the connection of the modules is not difficult.
Software Snapmaker Luban 3 in 1
The softwareSnapmakerLuban designed for multifunction device allows you to create 3D models and projects for laser engraving and CNC sculpting.
An entire workbench in one device
Snapmaker 3D printer can revolutionize the work in many workshops - and not only in amateur applications. Its compact, modular design and the fact that it is made of solid, metal profiles means that it will serve for a long time, becoming an integral part of many different projects.
Snapmaker is a 3-in-1 printer, as it is equipped with three modules in the shape of cubes. These are: print head (for 3D printer), laser module (for engraving) and CNC module (for cutting). Thanks to the well-thought-out design, a quick change of the head is enough to make the same device perform any of the mentioned tasks.
3 in 1 printer with laser and CNC module
Snapmaker V1 3in1 3D Printer - laser module, CNC, 3D printingis an interesting solution thanks to which user can create 3D prints, engrave with laser and sculpt with CNC module. A characteristic feature of this solution are metal profiles that allow you to build the printer according to several different concepts (horizontal or vertical).The 3-in-1 printerhas been enhanced with dedicated software - Snapmaker Luban - supporting the designer in preparing the projects for printing, carving or engraving. The Snapmaker V1 is operated on a 3.5'' colour display.
Versatile and easy to use device
The 3D printer module works with most popular filaments such asPLAorABSand provides printing speeds of up to100 mm/s. When laser engraving, you can process materials such as wood, leather, plastic, or fabric. The Snapmaker V1 also allows you to carve wood, acrylic, and even stone (jade) at speeds up to19,000 rpm.
When working, take care not to expose the laser module to reflective or transparent materials. Materials such as glass or metal should not beprocessed. However, the range of available raw materials is very wide and allows the realization of a huge number of projects - both technical and decorative or artistic.
Protective chamber for increased comfort and safety
Protective enclosure created for Snapmaker 3in1 version 1.0. The main construction elements of the chamber are made of aluminium andacrylicwith a coating that filters the laser radiation used during engraving. One of the systems increasing work safety is asensor of chamber door opening, which stops the device when it is opened. The whole construction is airtight, which minimizes the risk of damage to 3D prints caused by shrinking and warping of the filament or tearing off the printout from the working platform as a result of a stronger gust of air. The sealed chamber also increases the comfort of working with theCNCmodule. The enclosure prevents the spread of pollen during material processing.
Snapmaker 3D Printer Specifications
Basic information
Color display:
3.5"
Depth:
335 mm
Height:
289 mm
Width:
272 mm
Frame material:
aluminium alloy
Communication:
USB drive, USB cable
Supply voltage:
100 V to 240 V AC
Supported systems:
mac OS, Windows
3D Printing
Working table temperature:
up to 80°C
Working area:
125 x 125 x 125 mm
Printing speed:
up to 100 mm/s
Nozzle diameter:
0.4 mm
Nozzle temperature:
up to 250°C
Layer resolution:
50 to 300 microns
Supported materials:
1.75 mm PLA, ABS, etc.
Unsupported materials:
alumide, graphite, etc.
Supported file types:
.stl, .obj
Software:
Snapmaker Luban, Cura, Simplify3D, Slic3r
Laser engraving
Working area:
125 x 125 mm
Laser power:
200 mW
Light beam length:
405 nm
Safety class
class 3B
Supported materials:
Wood, bamboo, leather, plastic, fabric, paper, opaque acrylic, etc.
Unsupported materials:
Metal, glass, transparent materials, reflective materials
Supported file types:
SVG, JPEG, PNG, etc.
CNC Sculpting
Working area:
90 x 90 x 50 mm
Shank diameter:
3,175 mm
Spindle speed:
19,000 rpm
Supported materials:
Wood, acrylic, PCB, carbon fiber sheet, jade
Unsupported materials:
Metal, glass, etc.
Supported file types:
SVG, STEP, IGES, IGS, DWG, DXF, etc. *Users can work with supported file types with other software such as Autodesk Fusion 360.
Snapmaker V1 3in1 Kit Contents
Laser module
3D head module
CNC Module
3x linear actuator
1x filament holder
1x controller
1x work table
1x touch screen
1x USB drive
1x screen holder
1x base plate
1x plate for carving and engraving
1x sticker
1x knife
1x spare nozzle parts
4x platform screw
1x tweezers
24x screw M4x8
1x filament sample
1x RJ25 cable
1x RJ45 cable
Allen keys
4x fixture
16x screw M4x28
1x power supply
1x USB cable
1x screwdriver
4x foot
1x drill bit with flat tip
1x carving bit
2x protective goggles
Clamping clamps