Specification
Supply voltage: 2.7 V to 16 V
Measuring range (configurable):

±500 °/s (2 mV/°/s)
±2000 °/s (0.5 mV/°/s)

Axes supported: XZ
2 mounting holes
Dimensions: 12.7 × 25.4 mm
Weight (without connectors): 1,2 g
Description
The sensor is used to measure angular speed in two axes: X and Z. The module is equipped with a gyroscopeLPR550AL( datasheet )from ST companytogether with a voltage regulator and necessary passive elements. Output data are sent to the central unit in an analogue form. Outputs are popular goldpin connectors, which enable connection of the sensor with wires or direct connectionto acontactboard. The system can be operated e.g. with Arduino module orSTM32Discovery set.
Use
The sensor has ten leads for mounting goldpin-type connectors - 2.54 mm raster (included).
Power supply (Vdd/3.3V,VIN)
Voltage up to 3.3V is given on PINVdd/3.3V. When it is higher it should be connected toVIN. In this case pinVdd/3.3V can work as a 3.3V reference voltage output (max. 50 mA), e.g. for analog-to-digital converter.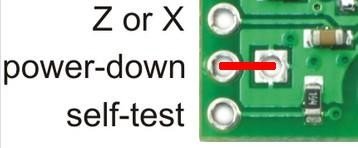 The power-down pin is disconnected by default. If the sleep mode will not be used, take the jumper to ground (photo opposite). To enter a low power-down state, enter a high state (3.3V) on the power-down pin. For 5V systems, a pull-up resistor up to 3.3V can be used.
PinSelf-test is pulled to mass. To use the self test option, the state is high (3.3V).
Reference voltage. The output signal during the absence of movement is equal to the voltage on the Vref pin.
Outputs (X or Y, 4X or 4Y, Z or X, 4Z or 4X)
Analogue signals corresponding to the acceleration values for the axis. The number 4 indicates that the signal is amplified four times.
Note!
For the power-down and self-test input the high state is 3.3 V. Connecting 5 V is not recommended and may damage the system.