Attention!
The product has been discontinued. Check other products in category.
Description
Sensor of electromyography (EMG), which measures the activity of muscles and, in proportional way, changes this value to a voltage ranging from 0 V to Vs, where Vs is the power supply voltage from 3.1 V to 5 V. It allows you to control various devices without the need to use the buttons and switches.
The module allows connection of the biomedical electrodes directly, without the need of cables. The sensor has output the RAW EMG, power pins with protection against reverse polarity, LEDs and built-in switch.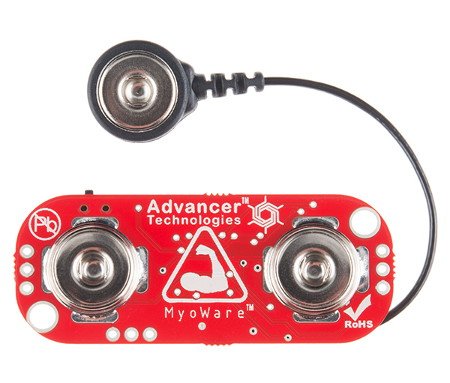 The module can be connected with, i.a. medical electrodes or heart rate monitor. In our offer there are also pads designed for MyoWare Muscle Sensor.
Specification
Supply voltage: 3.1 V to 5 V
Protection from reverse polarity of the supply voltage
Two modes of output
The possibility of expanding the possibilities via available caps
Indicating LEDs 
Built-in switch
Adjustable amplification
Dimensions: 52 x 21 mm