Attention!
The sale of the product has been completed. Check a newer version.
Description
The sensor consists of a 3-axis accelerometer, gyroscope and magnetometer. It can act as an AHRS system. Unlike IMU modules, which only provide raw data, the UM7, using a built-in microcontroller, processes the sensor data using a Kalman filter (EKF) to calculate the position of the headset 500 times per second. This version includes a housing.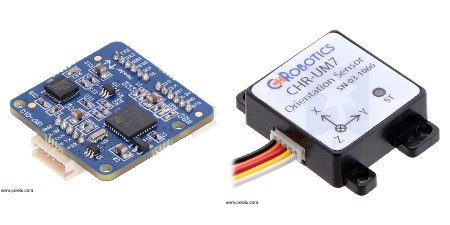 We offer two versions of the module, with and without housing.

Power supply to the module and serial communication can be done via a 5-pin connector using the included cable. Two 6-pin connectors provide additional functionality, such as connecting a GPS receiver.
Functions
High measurement stability
Adjustable EKF filter for better performance depending on the application
Synchronized data with external GPS module
Calibration and compensation of temperature compensation for accelerometer, gyroscope and magnetometer
The magnetometer can be configured as soft or hard via the CHR serial software
Communication
Output:

Height - Euler angles
Height - attitude quaternion
Accelerometer, gyroscope and magnetometer data
Altitude, position and speed according to GPS (when external module is connected)

UART communication with default speed: 921 600 bps and 3.3 V operating voltage
UART interface outputs (RX and TX) tolerate 5 V
Transmission uses NMEA (up to 100 Hz), binary packets for high efficiency (up to 255 Hz) or a combination of both modes
Flexible communication architecture allows for data transmission in individually adjustable packets
Real-time configuration via CHR serial interface software
SPI interface via additional connectors
Specification
Supply voltage: d 4 V to 5.5 V
3.3 V logic (with 5 V tolerance on RX and TX pins)
Measurement ranges (configurable):

Accelerometer: ± 8 g
Gyroscope: ± 2000 °/s
Magnetometer: ± 12 gauss

Size: 27 x 26 x 6.5 mm
Weight: 7,5 g