Attention!
The product has been discontinued. Check other products in category.
Product description: Li-Pol charger with SkyRC E3 balancer
Simple charger SkyRC E3 with balancer. The device is powered by 230V, 50Hz, so it does not require an additional power supply. Compatible with lithium polymer batteries from 2S to 3S (from 7.8 V to 11.1 V). Batteries are connected via the balancer connector. The charger has a maximum power of 11 W.

Contents
Charger SkyRC E3
Power cable 230 V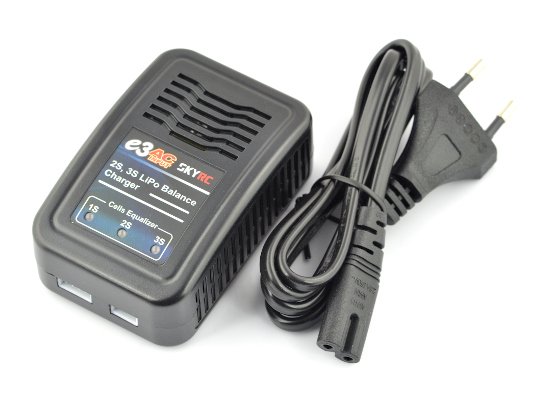 SkyRC E3 charger specifications
Supply voltage: from 110V to 240V AC 50 Hz
Charging current: up to 1.2 A
Supported packs: 2 and 3 cell LiPo
Charging sockets: 2 and 3 cell balancer plug
Dimensions: 88 x 57 x 35 mm
Weight: 103 g
SkyRC E3 Li-Pol charger with balancer
We offer a practical Li-Pol charger from the excellent company SkyRC. This equipment, which is often called a model charger, because it has become very popular among people involved in modeling electric vehicles and boats and flying devices.
SkyRC E3 model is characterized by extremely simple operation - the device is equipped with appropriate sockets through which you can connect the battery for charging. Included with the device each user also receives a cable connecting a standard electrical outlet (230 V AC) with the charger.
SkyRC for Li-Pol batteries
The offered model charger is designed to charge lithium-polymer batteries that have two to three features.
The user does not have to worry about the proper charging modes - this task is taken care of by the built-in microprocessor circuit. The device is also equipped with a balancer, so all cells will always be charged to the same degree.