Specification
Power supply voltage: 2.5 V - 5.5 V
Power consumption: 10 mA
Three axes: X, Y, Z
Communication interface: I2C (TWI)
Measurement ranges (configurable):

Accelerometer: ±2, ±4, ±8, ±16 g
Gyroscope: ±250, ±500 or ±2000 °/s
Magnetometer: ±1.3, ±1.9, ±2.5, ±4.0, ±4.7, ±5.6, ±8.1 gauss

Size: 20.3 x 12.7 x 2.5 mm
Weight: 0,9 g
Description
The module, through a 3-axis accelerometer, magnetometer and gyroscope, allows to measure acceleration, magnetic field and angular velocity in three-dimensional space. Knowledge of these quantities allows to locate an object in 3D space. For communication with the central unit, the popular I2C bus (TWI) is used. The module has a voltage regulator and the necessary passive elements. The outputs are popular goldpin connectors, enabling the sensor to be connected by wires or directly connectedtothe contactplate.
Product compatible with Arduino
The manufacturer has prepared a library ( L3G , LSM303 ) and a sampleprogram forArduino moduleusers.
Queries
The sensor has five goldpin connectors - 2.54 mm raster (included).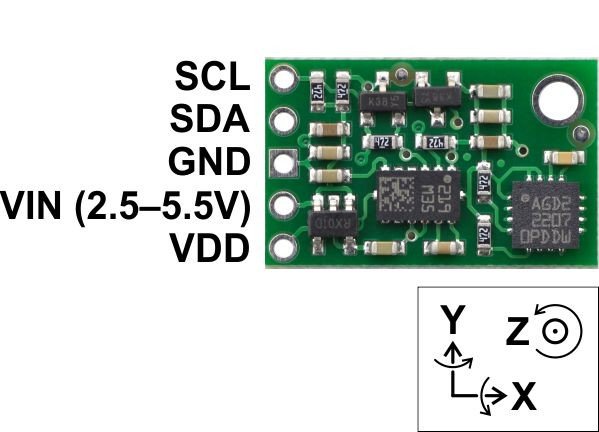 | | |
| --- | --- |
| PIN | Description |
| SCL | I2C bus clock line. The high state is equal to the VIN voltage. Low GND. |
| SDA | I2C bus data line. High state equals VIN voltage. Low GND. |
| GND | System mass potential |
| VIN | Supply voltage from 2.6 V to 5.5 V |
| VDD | If the supply voltage is higher than 3.3V, the output can serve as a 3.3V output with a current capacity up to 150mA. When the supply voltage is in the range of 2.5V - 3.3V, it should be connected to the VDD output |
The address of I2C
The accelerometer, magnetometer and gyroscope, located in MinImu-9 module, have 7-bit addresses. They are set to the following addresses:
Dimensions
The system is small in size, its outline fits into a rectangle of dimensions: 20.3 x 12.7 mm. It is mounted with a 2.1 mm internal diameter hole.

Diagram
The system includes, among others, two voltage regulators (3 V and 1.8 V), filtering capacitors, pull-up resistors (e.g. I2C bus lines).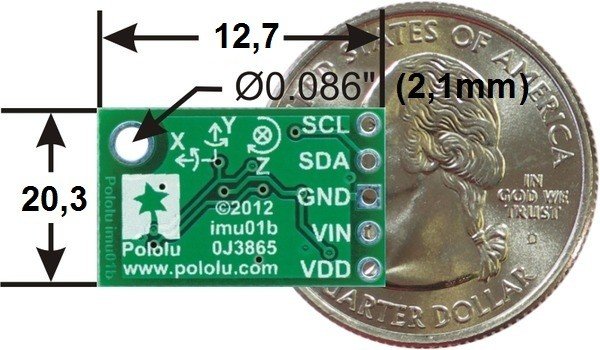 MinIMU-v2 vs v1
The v2 version includes newer accelerometer systems ( LSM303DLHC)and gyroscope ( L3GD20 ).The dimensions of the plate have been reduced: