Specification
Input voltage: 4.5 V to 25 V
Maximum continuous output current: 7 A

Maximum instantaneous output current: 16 A

Switching frequency 700 kHz

Dimensions of the plate: 48.5 x 15.5 x 8 mm

Weight: 6 g (without connectors)

Built-in protection to prevent reverse power connection
Description
Powerful pulse inverter system allowing for continuous current up to 7 A (momentary up to 16 A).TheD15V70F5S3 is a jumper selectable output voltage. The following are availableTwo most popular standards: 3.3 V and 5 V.
Use
The module has three outputs: input - VIN,ground- GND,output -OUT and jumper for voltage selection3v3 SEL.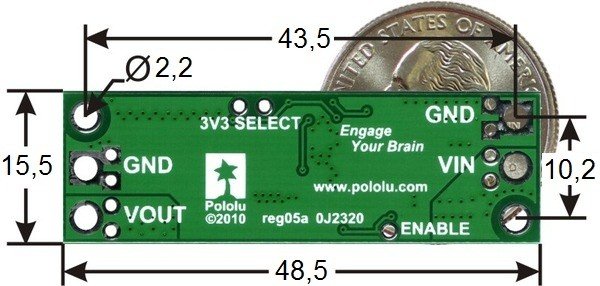 Pin EN (enable) - after pulling up to ground, it switches the inverters to the sleep state (the system then takes about 150 uA). There is a pull-up resistor between EN and VIN on the board, which means that the inverter is switched on by default.
Pin VIN (input)- input voltage. Permitted range: 4.5 V to 24 V.
Pin VOUT (output)- Output voltage depending on the 3v3 SEL jumper setting. If the pins are shorted, the output voltage is 3.3 V, otherwise 5 V.
Efficiency
The average efficiency of the system is between 80% and 90%. For example, when 12V is applied to the input, 5V is selected at the output and the average current drawn from the system is about 1.8 A. The efficiency is 90%. This means that the output power will be determined by the formula:
(Output current) ×(Output voltage)= 1.8A×5V = 9W
The input power will be about 10 W. 1 W will be given away as heat.
The input current can be calculated from the formula 10W/12V= 0,83A.
With such parameters the losses on the rope stabiliser would be as high as 13W.