Product description: BeagleBone Black
The Beaglebone Black minicomputer is based on the Sitara AM3358 ARM Cortex-A8 processor clocked at 1 GHz. It is equipped with 512 MB of RAM and 4 GB of eMMC built-in memory. It has a 3D graphics accelerometer, two 32-bit PRU microcontrollers and such interfaces as USB, HDMI, Ethernet and I/O pinouts. You can also find micro SD memory cards, power supplies, HDMI cables, USB devices compatible with the BeagleBone Black.
The kit includes
BeagleBone Black board
USB cable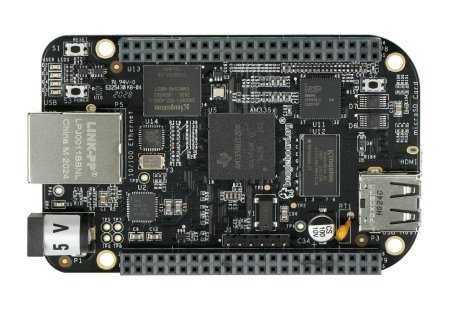 BeagleBone Black minicomputer.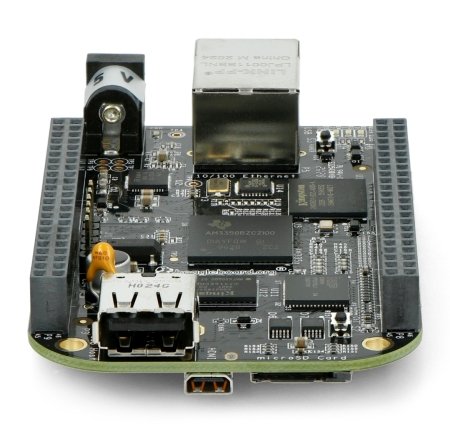 BeagleBone Black.
BeagleBone Black Minicomputer Specification
Processor: TI Sitara AM335x 1 GHz ARM® Cortex-A8
RAM: 512 MB DDR3L 400 MHz
Flash Memory: 4 GB onboard
Slot for microSD memory cards
Built-in 3D graphics accelerator
NEON floating-point accelerator (hardware floating-point unit)
2 x PRU (Programmable Real-Time Unit) microcontroller
Video resolution: 1280x1024, 1024x768, 1280x720, 1440x900
Power supply:
Communication Interfaces:

USB - power and debugging
USB any purpose
Ethernet socket
Video output: micro HDMI
Audio output: via micro HDMI
2 x 46 pins I/O

Supported Operating Systems:

Ångström Linux
Android
Ubuntu
and many others