Product description: Royal Resin Clear epoxy resin 1 kg - for lamination - clear
Royal ResinepoxyresininClearversion. It is used inrepair processes, during surfaceprotection, casting layers andlaminating. Recommended layer thickness ismax 5mm. The set contains two components: resin and hardener, which should be used in the ratio2:1. The setting time of the matter is about3 hours, and complete curing takes place after24hours. In order to obtain matter of a particular colour, it should be combined with atransparent dye.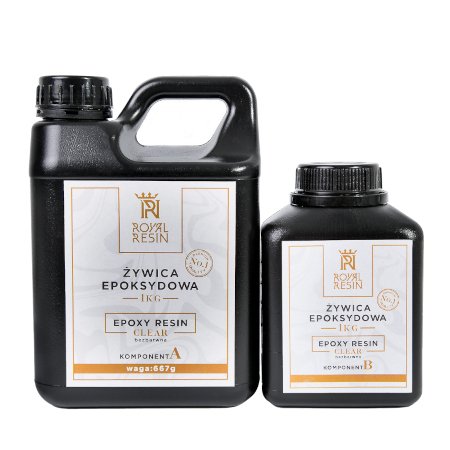 The kit consists of two components: resin and hardener.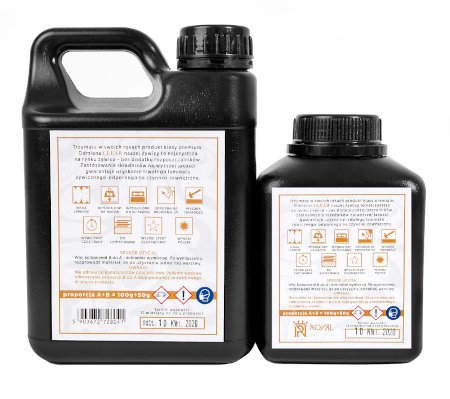 The recommended mixing ratio is 2:1.
Features of Royal Resin Clear
Used for coating, laminating, layer casting, repairing and protecting items such as jewellery, paintings and tabletops
Resistant to many chemicals
Electrostatic, self-leveling
Odourless, contains no solvents or VOCs
Low viscosity with minimal shrinkage
Adheres to many surfaces
Technical Specification
Colour
Transparent
Weight
1 kg
Mixing ratio
2:1 (e.g. 200 g resin : 100 g hardener)
Declared working time
from 30 min to 40 min
Solidification time
up to 3 hours
Curing time
after 24 hours
Shrinkage value
Minimum
Recommended layer thicknesses
up to 5 mm
Transparency

Up to 2 mm
Above 2 mm, the resin takes on a milky color

Set contents

Component A - resin: 667 g
Component B - hardener: 333 g