Product description: Royal Resin Clear 0,5 kg - epoxy resin for lamination - colourless
Royal Resin Clear epoxy resin has a high gloss, is colourless and two component. The kit contains two components: A - resin and B - hardener, which should be mixed at a ratio of 2:1. The resulting matter is suitable for coating, laminating, casting layers and surface protection. According to the manufacturer's recommendations the layer thickness should be maximum 5 mm. Royal Resin Clear sets within 3 hours and reaches full cure after 24 hours. In order to obtain a matter of a particular colour, it should be combined with a transparent dye.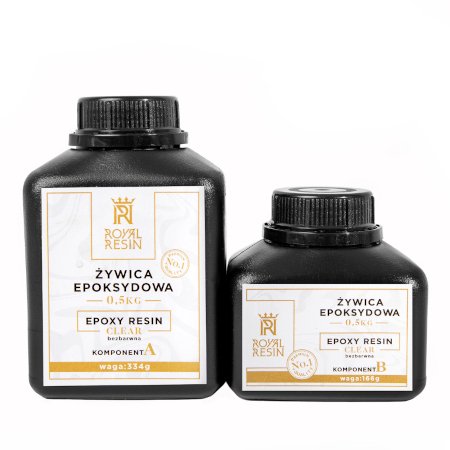 The kit consists of two components: resin and hardener.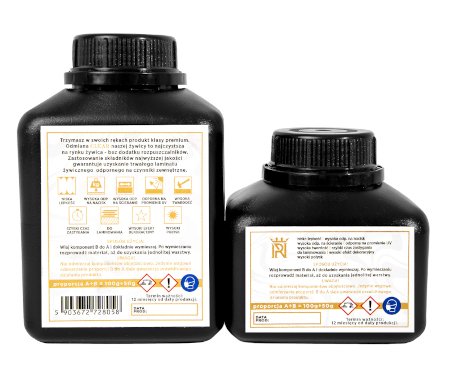 The recommended mixing ratio is 2:1.
Features of Royal Resin Clear
Used for coating, laminating, layer casting, repairing and protecting items such as jewelry, 3D floors, crafts, paintings and tabletops
Resistant to most chemicals
Odourless, contains no solvents or VOCs
Electrostatic, self-leveling
Low viscosity with minimal shrinkage
Adheres to most surfaces
Technical Specification
Colour
Transparent
Mixing ratio
2:1 (e.g. 200 g resin : 100 g hardener)
Working time
30 min to 40 min
Solidification time
Up to 3 hours
Curing time
After 24 hours
Shrinkage value
Minimum
Recommended layer thicknesses
Up to 5 mm
Transparency

Up to 2 mm
Above 2 mm, the resin takes on a milky color

Mass
0.5 kg
Set contents

Component A - resin: 334 g
Component B - hardener: 166 g