Product description: Grove - Doppler radar - BGT24LTR11 - 24GHz transceiver - 10m - Seeedstudio 109020021.
Doppler radar based onBGT24LTR11chipandXMC1302controller withArm Cortex-M0processor. It allows for precise distance measurements and motion detection using radar technology. The device uses the physicalDoppler effect,analyzing the frequencies of waves generated and received by the device usingRXandTXantennas. The module is ideal for projects related to safety systems, and its operation is not affected byadverse factorssuch as high temperature, rain and accumulated dust.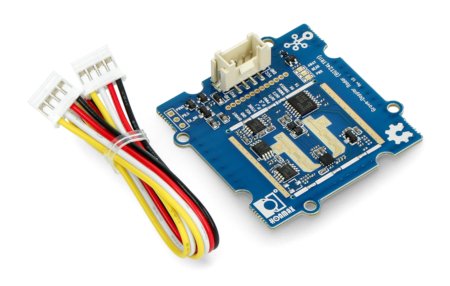 Doppler radar from Grove series.
Radar operation and Doppler effect
The radar using aTXtransmitter sends beams of electromagnetic radiation in the direction of the object, when the waves collide with the object they are reflected in the direction of the radar and received by theRXreceiver.When the objectis moving, the frequency received will be different from the one transmitted. The principle of the module is illustrated in the graphics below.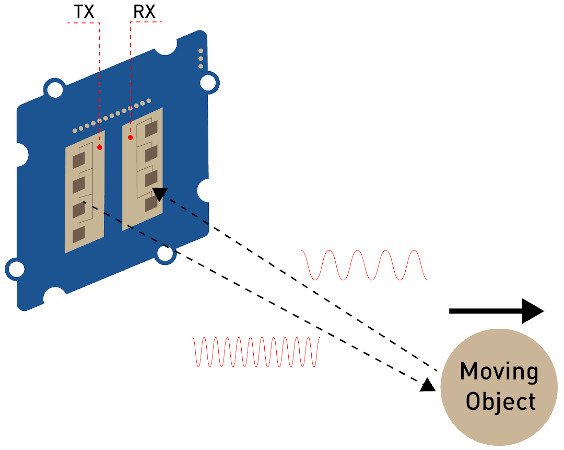 The principle of operation of the Doppler radar.
Customizable
The radar module has leadouts allowing more advanced usersto customizethe module to their needs. In addition, the board featuresLEDshelping to determine in which direction the monitored object is moving.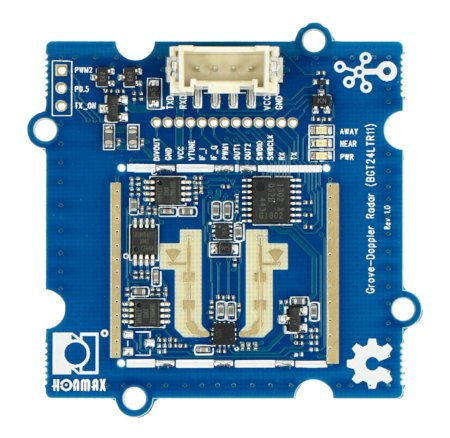 A radar plate from above.
Technical specifications
MMIC: BGT24LTR11
MCU: XMC1302

Arm Cortex-M0

Supply voltage: 3.3 V to 5 V

Frequency of transmission:

min: 24 GHz
max: 24.25 GHz

Output power: 7 dBm @ 25°C
Update time: 300 ms
Communication interface: UART
Detection distance: 10 m @ 0 dBsm
Detection field: 65° horizontally; 22° vertically
Dimensions: 40 x 40 mm
Weight: 5 g