Product description: Microcontroller USB iNode MCU USB
Running under the NodeMCU ESP32operating system, microcontrollerUSB is the device with modifiable functionality. NodeMCU is a system based on the codeopen source LUAfor the ESP32 SOC system from the Espressif. Wireless communications provide the standards of Bluetooth 4.1andwi-fi. Software NodeMCU is digitally signed and can only be replaced via OTA.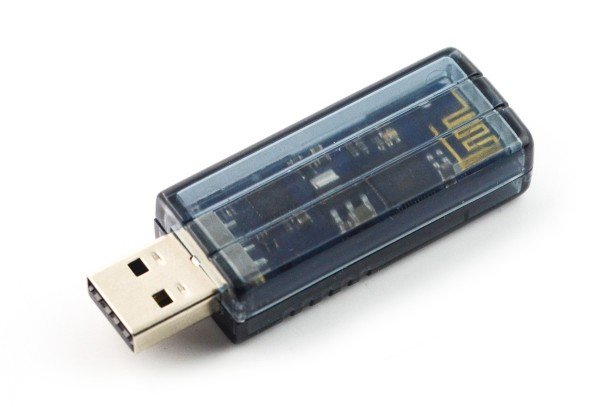 Unlike other modules with ESP32, to the module can be uploaded onlyprepared by the manufacturer, NodeMCU firmware, as itis digitally signed. In version WebUSB iNode MCU USB, possible is a direct connection from LUA script with Google Chrome browser. The microcontrollerWebUSB is a kind of bridge between the USBdevice and browsers.
Attention!
The price of the basic module is PLN 139 (not included in the offer). The subject of the sale is the module in the extended version of WebUSB.
Examples of application of the microcontroller iNode MCU USB
Communication with BLE devices
Alarm system, protection of property
Monitoring of patients
The care of the elders
Automation for home
Because this is a new product, we will be grateful for
all questions, comments and suggestions of the clients concerning it.
Technical specification of stick iNode MCU USB
Parameter
Range

Radio parameters

The reader of memory cards: yes
WebUSB: yes
RX / TX

Bluetooth / BLE: 2402-2480 MHz, sensitivity: @30,8 % PER: -97 dBm
Wifi: 2412 - 2472 MHz, 2422 - 2462 MHz

Output power (max.):

Bluetooth: 6,72 dBm
BLE: 8,23 dBm
Wi-fi: 16,81 dBm (802.11 b); 17,60 dBm (802.11 g); 18,04 dBm (802.11n20); of 17.85 dBm (802.11n40)

Modulation:

Bluetooth: GFSK, π/4-DQPSK, 8DPSK
BLE: GFSK
Wi-fi: DSSS, OFDM

Antenna:

internal PCB, type MIFA, 1,6 dBi

The working parameters

configurable with a PC via Bluetooth:

access data for the wi-fi network
LUA scripts controlling the device
replacement of NodeMCU firmware via OTA (wi-fi)

Node MCU

Built-in modules:

ADC, Bit, Bluetooth HCI interface, CRYPTO, Encoder, Tool, FOTA, GPIO, HTTP, LEDC, MQTT, Net, Node, SD-MMC, Struct, Timer, Uart, wi-fi, time

Power

Voltage: 5 V DC,
Current: from 50 mA to 160 mA depending on operation mode and version

Case

Material: Plastic
Dimensions: 55 x 20 x 15 mm

The rest

Work signaling in setup mode using the LEDs
Connector type: USB 2.0
FLASH memory for the LUA scripts: about 800 KB
MicroSD card reader: up to 32 GB, support for FAT
WebUSB:

direct communication with Google Chrome browser
Basic UART: 115200 bps, 8N1 - communication with Node MCU
Additional UART 921600 bit/s 8N2 - communication with LUA app

Operating temperature: -20 to 45

°C

Humidity: 20 to 80 % RHG
Weight: 15 g

Software

Google Chrome, Android OS, Linux, Windows 10

Chipset