Description
Panel with blue monochrome OLED display-0,66" with a resolution of 64 x 48 px for module Particle Photon. On the board there are industrially soldered goldpin strips, which you just need to plug in to the basic module. In addition, the board has holes with the GPIO pins of the module.
Inputs
The extension has goldpin strips soldered for easier connection of the Photon module. On the other side of the circuit board there is a jumper:
VD/VB - jumper that allows you to change power source from power supply to battery power.
D1/D2 should be closed in case of using I2C.
D/C - when using 3.3 V should be closed to 1, and at 0 V it should be closed to 0. In the case of using SPI you must leave the jumper open.
BS1 and BS2 - jumpers that determine the used interface SPI or I2C.
Operation mode

Pin

BS1

Pin

BS2

SPI
0
0
I2C
1
0
8-bit parallel (6800)
0
1
8-bit parallel (8080)
1
1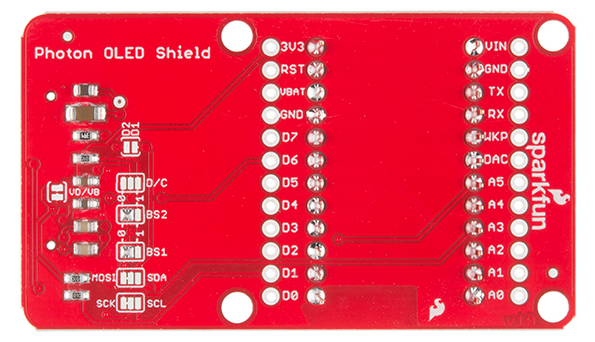 Specification
Display: monochrome OLED
Diagonal: 0,66"
Resolution: 64 x 48 px
Communication: SPI or I2C
Soldered goldpin connectors
Compatible with: Photon Core