Product description: nRF24L01+ 2.4GHz radio module - THT transceiver - black.
Radio module (transmitter and receiver) operating in 2.4 GHz band with SPI communication interface. Powered by 1.9 V - 3.6 V, the outputs are goldpin connectors. It has a built-in antenna and FIFO hardware queues. Max range up to 100m.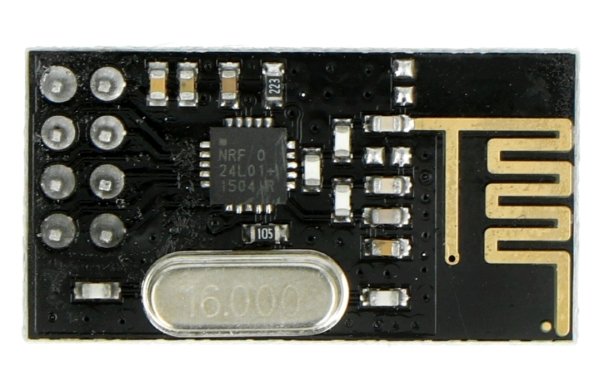 Radio module nRF24L01.
Specification of the nRF24L01 radio module.
Power supply voltage: 1.9 V - 3.6 V
Power consumption: 11 mA (at 0 dbm input power)
Frequency of operation: 2.4GHz
Communication interface: SPI
Transmission speed: 250 kbps, 1 Mbps or 2 Mbps
GFSK modulation
32-bit FIFO records for transmitter and receiver
Automatic transmission of packets
Dimensions: 30 x 16 mm
Mounting: threaded - raster 2.54(goldpin connectors)
Our offer includes femalegoldpin stripsand cables which enable connecting the module to a dedicated PCB, contact board or set (e.g. Arduino, Arduino Nano or STM32Discovery ) .
Product compatible with Arduino
For Arduino users a library was created to facilitate the use of the module.
Arduino / nrf24101 - Guide - Full compatibility
Wireless network communication via WiFi has long since ceased to be the domain of computers, mobile devices and top-of-the-line professional equipment. Today, even inexpensive, mass-produced gadgets, as well as devices built by electronics enthusiasts at home, connect to the Internet. There is no denying that probably the strongest influence on the popularization of WiFi among macros had (and still have) radio modules based on Nordic Semiconductor chips. The nRF24L01+ radio module is particularly popular, both because of its very attractive price and its really impressive functional capabilities.
All in one chip
The heart of this WiFi module is a small chip marked nRF24L01+, integrating all the blocks necessary to establish radio communication with routers, computers or mobile devices. In addition to a sensitive receiver with adjustable gain and a transmitter with a digitally tunable amplifier, the structure of the nRF24L01+ chip includes a frequency synthesizer, RF filters and a GFSK modulator and demodulator, as well as the digital blocks necessary to support the WiFi protocol: radio part controller, memory divided into registers (they provide the ability to configure the operating parameters of the system and read the current status), FIFO buffers for transmitter and receiver and SPI interface, allowing easy connection to any microcontroller or FPGA chip.
Excellent link balance and simple connection
The nRF24L01+ transmitter can operate with output power from -18 dBm up to 0 dBm (with step set in 6 dBM steps), while the transmitter offers sensitivity up to -94 dBm (at minimum transmission speed of 250 kbps). These parameters allow to achieve a range up to 100 meters, depending on the environment and the presence of possible obstacles between the nRF24L01+ module and the cooperating device. What is important, with 12 dBm sensitivity lower by 12 dBm, the system can reach transmission speed up to 2 Mbps. The transceiver's operational stability is ensured by a built-in voltage regulator, operating in the input voltage range from 1.9 to 3.6 V. A significant facilitation is the presence of built-in microstrip antenna, made in the form of a path on the PCB of the module - thanks to this, it is not necessary to use external antennas, which is the case with more expensive modules. The connection of the nRF24L01+ radio module with a control microcontroller is made via a 2x4 goldpin connector in a standard 2.54 mm (100 mils) raster. The small external dimensions of the PCB (only 30 x 16 mm) allow the transceiver to be built into almost any device - that's why the nRF24L01+ radio module is popular among small mobile robots.