Description of product: Raspberry Pi 4 model B, WiFi, 2x microHDMI, USB-C, USB 3.0, 4 GB of RAM 1.5 GHz
Raspberry Pi 4 model B with the increased RAM of 4 GB. This model has a more efficient processor, Broadcom BCM2711 quad-core 64-bit ARM-8 Cortex-A72 1.5 GHz, two microHDMI ports, two USB 3.0 ports and 2 USB 2.0 ports, as well as a USB-C power supply connector. The board is supplied with dual-band 2.4 GHz and 5 GHz WiFi, Bluetooth 5 / BLE, Ethernet port with speed to 1000 Mbps and the possibility of power supply via PoE. The other characteristics remain the same as in model 3 B+. Onboard there are still: 40 pin GPIO header (2x20 pin, raster: 2.54), microSD slot for memory cards, DSI and CSI connectors, which allow for the extension with a camera and a display. Thanks to four mounting holes it is very easy to install the board in the chosen spot.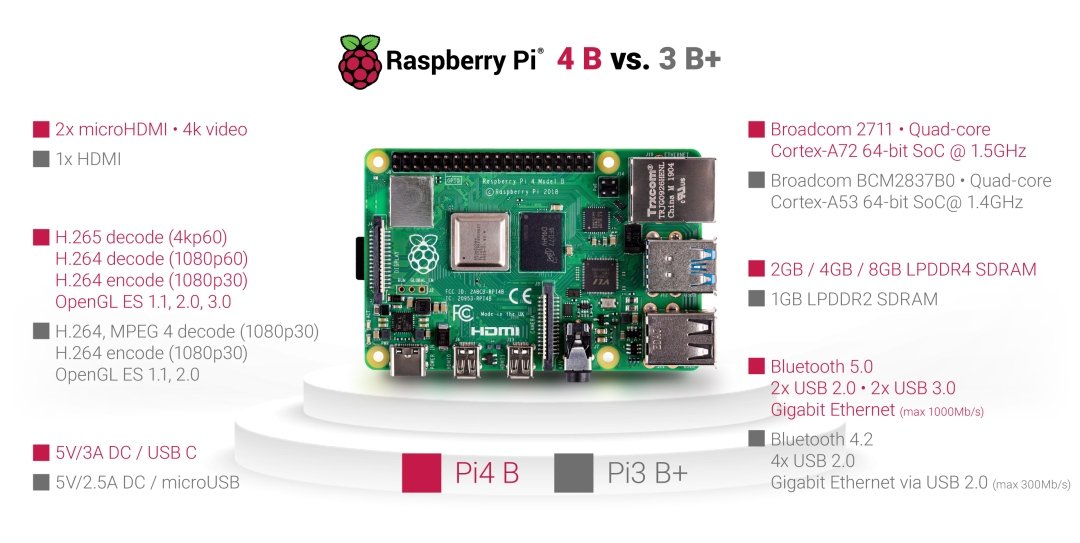 What is new in Raspberry Pi 4?
Feature
Description

3 versions of minicomputer

Raspberry Pi 4 is sold in three versions, differing in RAM:

Processor BCM2711

Chipset Broadcom BCM2711 64-bit core Quad-core ARM-8 Cortex-A72 processor, running at 1.5 GHz offers more power than the previous Raspberry Pi models.

2 microHDMI display ports

Raspberry Pi 4 has two microHDMI ports, making it possible to simultaneously connect two HDMI monitors with resolutions up to 4K (4K and 60 fps for a single display, and 4K and 30 fps for two 

displays

).
2 USB 3.0 ports
Minicomputer has 4 USB port. Two in 2.0 version and two powerful USB 3.0 ports.
Ethernet speed up to 1000 Mbps

Ethernet connector in fullGigabit version, ethernet provides faster cable Internet.

USB-C power connector

The power connector has been adapted to modern standards. Raspberry Pi has a USB-C connector. The manufacturer recommends a supply voltage of 5 V / 3 A.

Bluetooth 5.0

The new wireless standard, offering data transfer speeds up to 2 Mb/s.

Layout of connectors

The layout of the board remains the same, but the layout of the connectors has changed.
Image and sound in minicomputer Raspberry Pi 4
Raspberry Pi has two microHDMI ports, through which it can pass the image and sound even at 4 K and 60 fps for one display and 30 fps for two displays. Built-in 4-pin 3.5 mm Jack for headphones, speaker systems or for video output using standard RCA Composite. Raspberry Pi supports the H265 (4Kp60), H. 264 (1080p30) compression standard a OpenGL ES 1.1, 2.0 and 3.0 graphics.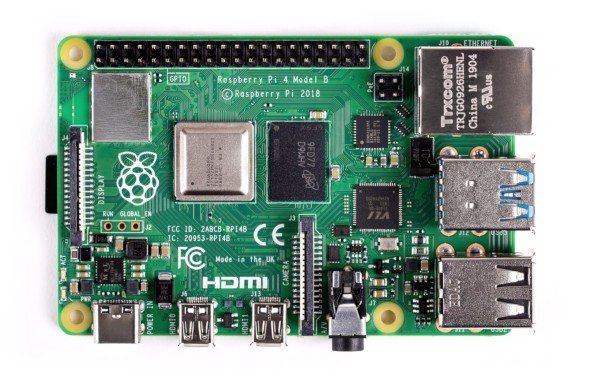 Raspberry Pi 4 model B - top view.
Operating system for Raspberry
The drive of the minicomputer is still the microSD memory card. The manufacturer did not use eMMC memory. The operating system can be downloaded via the computer with the card reader. In our offer you will find a corresponging card with preinstalled software NOOBs that enables you to install one of systems: Raspbian, Openelec, RaspBMC, or OSMC Linux at the first run. There is also the possibility to install Windows 10 IoT independently.
System installation and first start of Raspberry Pi.
Communication in Raspberry Pi 4
Raspberry Pi is equipped with 4 popular communication interfaces, available in a traditional PC. The main ones are:
2 microHDMI ports for simultaneous connection of two videos 

receivers 

even in 4K.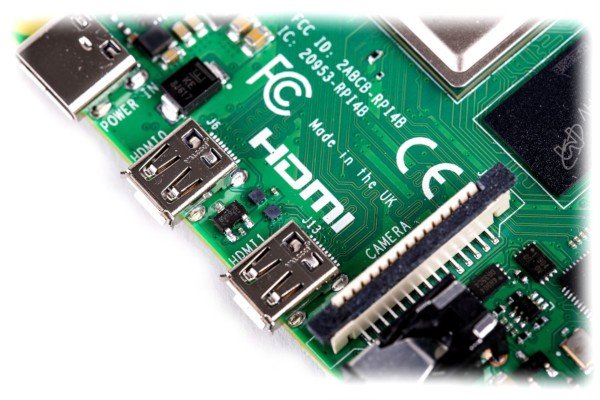 2 USB 3.0 and 2 USB 2.0 ports, which can connect peripheral devices. USB 3.0 provides fast transfer from the external drive. The use of an extra USB Hub allows you to add additional connectors.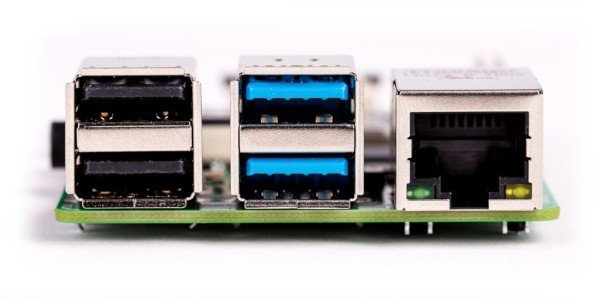 Ethernet connector, for connection to the cable network at speeds up to 1 GB/sec.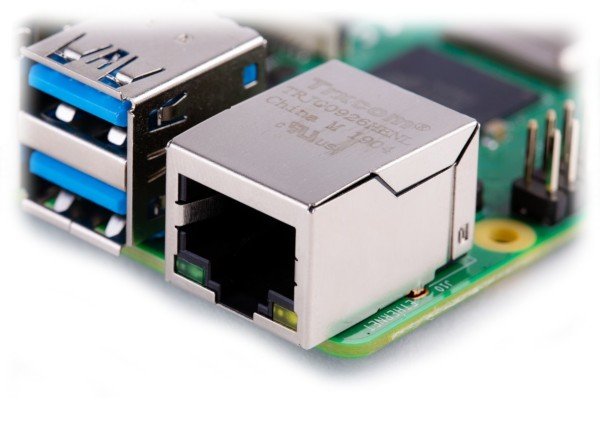 WiFi module - dual band 2.4 GHz and 5 GHz, 802.11 b/g/n/ac, working with the drivers built in the latest system Raspbian / NOOBs
Bluetooth 5 module is a popular wireless network in the newest 5.0 

standard

GPIO - 40 pin GPIO header used for LEDs, buttons, motor drivers and interfaces: I2C, SPI, and UART and many more.
ThingSpeak platform for Arduino and Raspberry Pi IoT.
Power supply of minicomputer Raspberry Pi 4
Raspberry Pi 4 need a power supply with USB-C connector and an output voltage of 5 V. The minimum recommended current is 3 A. We recommend to use power supply units from our offer.
Specification and comparison of the Raspberry Pi 3, 3+ and 4
Basic information
 
Model
Raspberry Pi 3 model B
Raspberry Pi 3 model B+
Raspberry Pi 4 model B
Edition
3 - 2016.
3 - by 2018.
6 - 2019.
Technical specification
Processor chipset

Broadcom BCM2837 64-bit

Broadcom BCM2837B0 64-bit
Broadcom BCM2711 64-bit
Core

Quad-Core ARM Cortex A53

Quad-Core ARM Cortex-A53
Quad-Core ARM Cortex-A72
Operating systems

Linux Raspbian

Windows 10 IoT

Linux Raspbian

Windows 10 IoT

Linux Raspbian

Windows 10 IoT

Clock frequency

1.2 GHz

1.4 GHz
1.5 GHz
Architecture

ARMv8-A

ARMv8-A
ARMv8-A
RAM

1 GB LPDDR2 @ 900 MHz

1 GB LPDDR2 @ 900 MHz

Three versions:


2 GB LPDDR4
4 GB LPDDR4
8 GB LPDDR4

Memory

microSD memory card

microSD memory card
microSD memory card
Connectors GPIO

40 GPIO pin header (2x20 pin)

raster 2.54 mm

40 GPIO pin header (2x20 pin)

raster 2.54 mm

40 GPIO pin header (2x20 pin)

raster 2.54 mm

Power supply

A 5.1 V / 2.5 A

via microUSB

5.0 V / 2.5 A
via microUSB

5 V through GPIO
PoE with
additional extension

5.0 V / 3 A
via USB-C
5 V through GPIO
PoE with
additional 

extension

Dimensions

85 x 56 x 17 mm

85 x 56 x 17 mm
85 x 56 x 17 mm
Interfaces
USB interface

4x USB 2.0 - connector type A

4x USB 2.0 - connector type A

2x USB 2.0, connector type A

2x USB 3.0 connector type A

Network interface

Ethernet port 10/100 Mbps

Ethernet port 300 Mbps
Ethernet port 100/1000 Mbps
Wi-Fi interface

802.11 b/g/n 150 Mbps

Dual Band (2.4 GHz and 5 GHz

802.11 b/g/n/ac

Dual Band (2.4 GHz and 5 GHz

802.11 b/g/n/ac

Bluetooth

Low Energy, BLE 4.1

Low Energy, BLE 4.2
Low Energy, BLE 5
Camera

CSI connector

CSI connector
CSI connector
Touchscreen display

DSI 

connector

DSI 

connector

DSI connector
Video

HDMI HD 1080px / 30 fps

HDMI HD 1080px / 30 fps

1080p30 H. 264

OpenGLES 1.1, 2.0

2 x microHDMI
H. 265 4K 60 fps
H. 264, 1080p, 30 fps
OpenGLES 1.1, 2.0, 3.0

Communication

UART, SPI, I2C, GPIO

UART, SPI, I2C, GPIO
UART, SPI, I2C, GPIO