Product description: Raspberry Pi PoE+ HAT - Power over Ethernet for Raspberry Pi 4B/3B+ - SC0468
HAT is designed for Raspberry Pi 3B+ and 4B versions which are equipped with 4-pin PoE connector. It allows simultaneous communication with LAN and powering the minicomputer board via Ethernet (RJ45) connector. PoE HAT does not require installation of additional drivers for proper operation, it is a plug-and-play product. On the board there is a brushless fan designed to cool the processor of the minicomputer, it starts automatically when high temperature is detected. The input voltage of the module ranges from 37 V to 57 V. The output voltage is equal to 5 V and the current capacity is 4 A. Arouter / switchwith PoE (Power over Ethernet) support is required for proper operation of the module.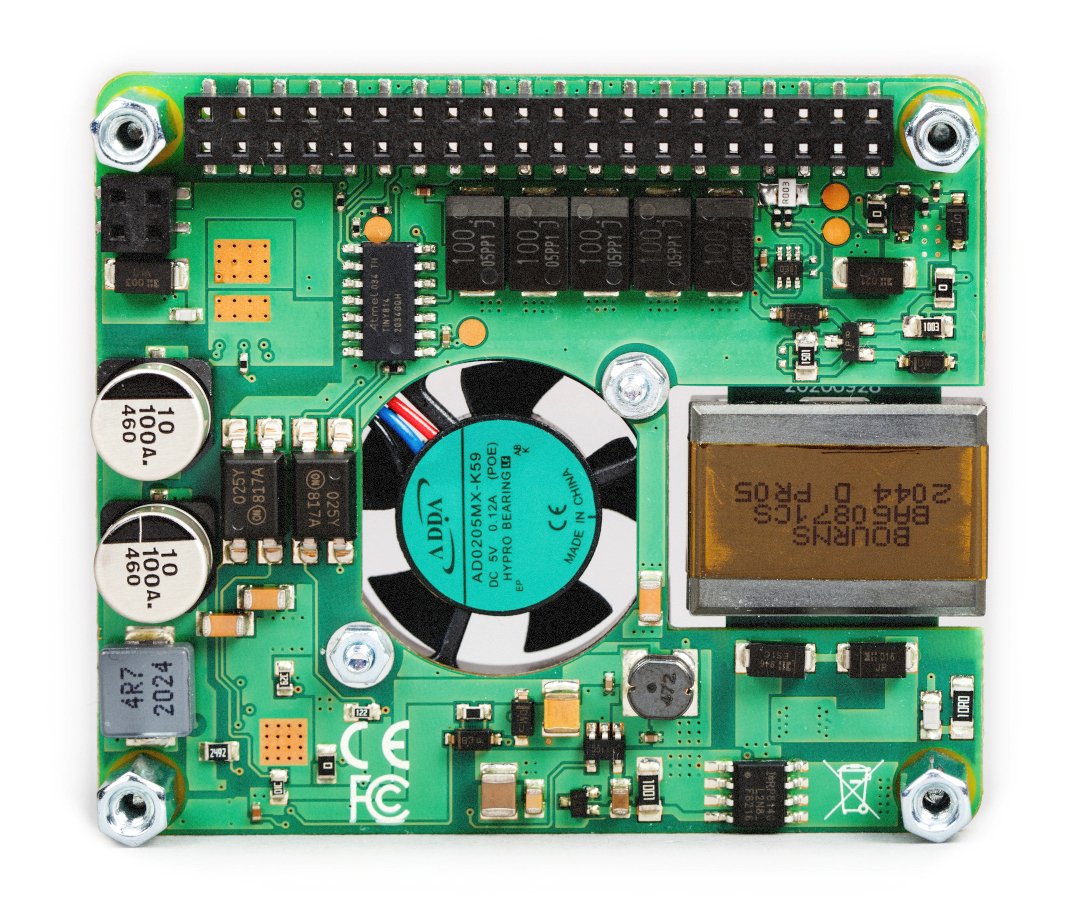 PoE+ HAT overlay for Raspberry Pi minicomputers.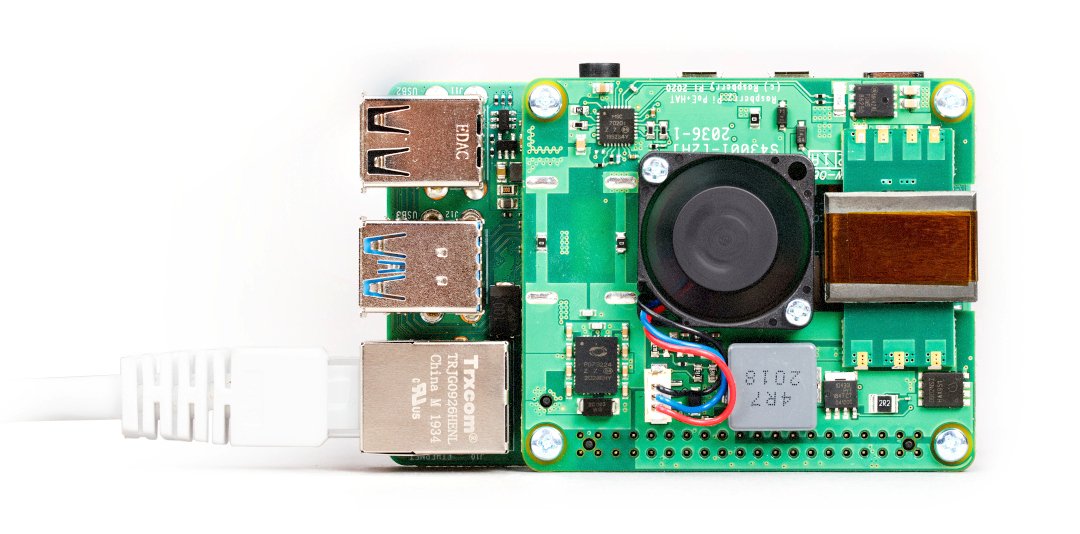 This overlay allows powering Raspberry Pi 3B+ and 4B minicomputers with Ethernet cable using a PoE enabled router / switch.
Rules for safe use of Raspberry Pi PoE+ HAT
Do not obstruct the fan
Do not put anything between the blades while the fan is running
The product must not be exposed to water or moisture
The HAT must not be placed on a conductive surface
PoE HAT must not be used in a too hot place. It is designed to operate at room temperature
When lifting, be careful not to damage it mechanically
Avoid electrostatic damage, do not touch the device during operation
Peripheral devices should comply with relevant standards
Raspberry PoE+ HAT specification
Full network power: IEEE 802.3at-2003 PoE
Input voltage: 37 V to 57 V
Output voltage: 5 V
Output current: 4 A
Output Power: max 20 W
Built-in current sensor
Built-in brushless fan 25 x 25 mm, 2.2 CFM
Fan control
Fully isolated power supply
Operating temperature: 0°C to 50°C
Pinouts: GPIO x 40
4 spacers included
Dimensions: 65 x 56.5 mm
Convenient power supply for Raspberry Pi minicomputers
The specially designed PoE+ HAT overlay for the popular Raspberry Pi minicomputers allows you to power them using a PoE-enabled router or switch (via an Ethernet network cable). This means that the Raspberry Pi does not need an AC adapter to operate, making it much easier to install the minicomputer in locations where 230V mains access is limited.
A PoE compatible router or switch is required for the Raspberry Pi PoE HAT to work properly. The device requires 37 V to 57 V DC power supply. In addition to the planar transformer inverter, which provides 5 V and 3 A, the overlay also acts as an additional cooling system for the Raspberry Pi processor - A small fan significantly improves heat dissipation from the minicomputer components.