Description
Module in a form of a hat forthe Raspberry Pi, enables to supply power to the minicomputer with voltage from 3 V to 16 V. This allows the cooperation of different power supplies with Raspbery Pi. It is small in size, so it can be soldered directly to the GPIO pins and use further hats.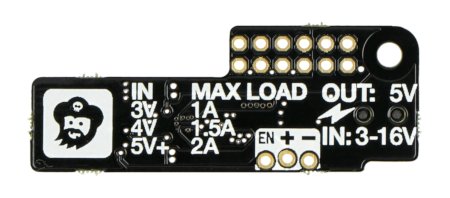 Wide Input SHIM (Shove Hardware in the Middle)has a power connector 3,5 / 1,4 mm. The module is supplied with an adapter cable with a plug 5,5 / 2,1 mm and another one with wires withremoved insulation.
During the power supply, Raspberry Pi with the hat should not be connected with an additional power supply via microUSB. This can lead to damaging the Raspberry Pi.
Specification
Supply voltage: 3 V to 16 V
Small board: thickness 0.8 mm
Allows the installation of other HATs and pHATs
Built-in connector 3.5 / 1.4 mm (plus in the center)
Two additional wires
Built-in converter

TPS630701

Performance voltage:

For 3V: 1A
4V: 1.5 A
5V: 2 A

Protection against reverse polarity
Works with Raspberry Pi 3+ / 3 / 2 / B+ / Zero / Zero In
Pin EN: turn off the system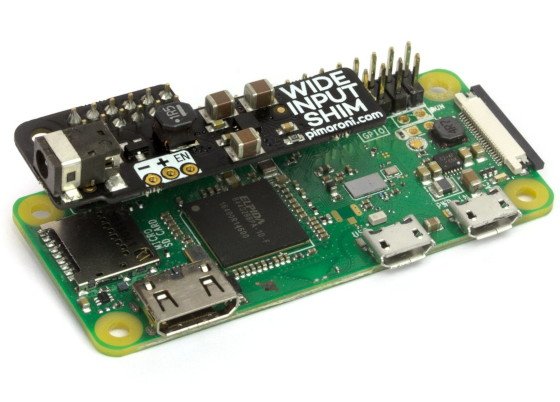 The subject of the sale is an hat only. Raspberry Pimust be purchased separately.
Included
Trim Wide Input SHIM
Connector 2x6 for self-soldering
Cable with a plug 5,5 / 2,1 mm
Cable with wires with removed insulation