Product description: SparkFun Ambient Light Sensor - ambient light sensor - VEML6030 - Qwiic - SparkFun SEN-15436
Manufactured by SparkFun, the Ambient Light Sensor module is a sensor capable of detecting ambient light . It was equipped with the VEML6030 chip, which returns very accurate measurements with 16-bit resolution. The light intensity is read in the range from 0 lx to about 120 klx , additionally the module offers a number of useful functions, including: the ability to set high and low thresholds for an optionally declared interruption, or energy saving functions. The board has Qwiic connectors, which are a convenient and quick way to connect, and solder pads to which goldpin connectors should be soldered (not included).
What is a Qwiic connector?
Qwiic SparkFun is an ecosystem that includes numerous sensors based on the I2C bus , executive modules and dedicated cables . The main assumption of this solution is to streamline the prototyping process. All Qwiic-enabled components use a common 1mm pitch 4-pin JST connector . This reduces the amount of space required on the PCB. It also protects against connecting wrong polarity.
Description of the module pins
GND - system ground
3V3 - power pin
SDA - data line of the I2C bus
SCL - clock line of the I2C bus
INT - internal interrupt pin
Sensor technical specification
Module type: ambient light sensor
Built-in chip: VEML6030
Lifetime: 72 h, MSL 4, in accordance with J-STD-020
Detection range: from 0 lux to about 120 klx
Resolution: up to 0.0036 lx/kt
Standby current consumption: 0.5 uA typical
Communication interface: I2C bus
Bus address: configurable 0x10, default 0x48
Leads: solder pads, Qwiic connectors
Kit contents
SparkFun Ambient Light Sensor - ambient light sensor - VEML6030 - Qwiic - SparkFun SEN-15436 - 1 piece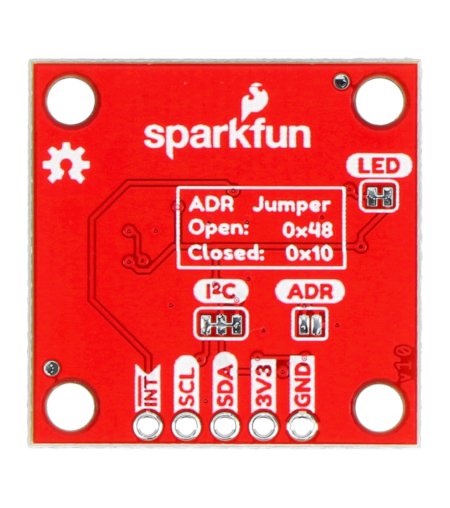 On
the back of the module there is a jumper that allows you to change the address of the I2C bus.