Product description: WSS1 WiFi Tuya Smart Life Smoke Detector
A smoke detector that communicates via WiFi and the Tuya or Smart Life app. The device is used to detect smoke indoors and signal its detection via smartphone notifications in the Tuya system application. The sensor is equipped with a very loud 118 dB siren and a signaling LED. The sensor detects the presence of smoke in a 360° range. The module is powered by one CR2 battery (included). The Tuya Smoke Detector helps protect your loved ones and your property from danger. The sensor is mounted to the wall / ceiling using mounting studs or double-sided adhesive tape.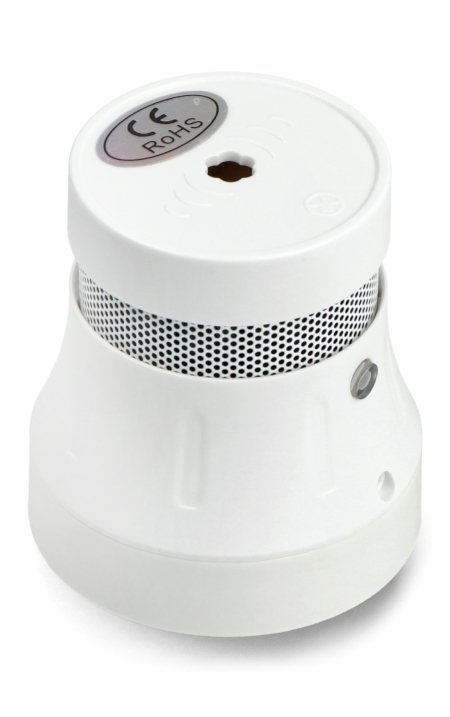 WiFi Smoke Detector Tuya Smart Life.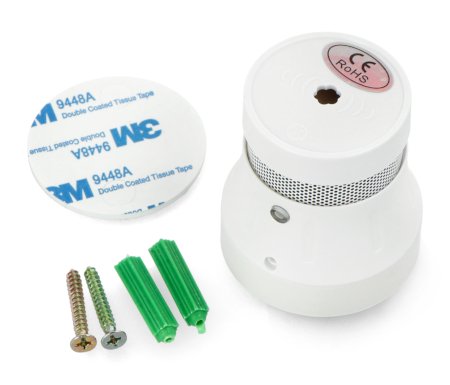 Contents of the smoke detector kit.
Specifications of the WiFi Smoke Detector
Communication: 2.4 GHz WiFi
Antenna type: built-in
Status indicator: LED
Power supply: CR2 battery
Detection field: 360°
Alarm volume: 118 dB
Application: Tuya or Smart Life
Dimensions: 50 x 57 mm
Weight: 60 g
Set contents
Tuya WiFi Smoke Detector
Mounting pins with screws
Double-sided adhesive tape
A smart security solution
In addition to solutions that make everyday life more enjoyable, smart home systems can also offer functionalities that really increase the safety of the household members. A perfect example of such solutions is the presented Tuya Smart Life WSS1 WiFi smoke detector.
The finished device with dimensions of only 50x57 mm is delivered in a housing, designed to be mounted on the ceiling or wall. Installation is done using pins and screws or double-sided adhesive tape (included in the kit).
Tuya - world-class home automation
The WSS1 WiFi smoke detector is compatible with Tuya and Smart Life applications. This universal platform, popular among smart home solution providers, allows you to receive notifications when a threat is detected via a mobile device, such as a smartphone.
Remote notifications are intended for people who, at the time of the alarm, are in a place where they cannot hear the sound signal (in conditions of significant noise outside the building or outside the home - e.g. at work). On the other hand, the WSS1 WiFi smoke detector notifies the household members who are on the spot about the detected threat with a light signal from an LED diode and 118-decibel alarm.