Description
Multimeter can measure voltage DC and AC up to 600 V, DC and AC current up to 15 A and resistance to 60 megohms, and capacitance to 99.99 MF max. The device has a measuring function, temperature, measuring parameters of diodes, capacitance, frequency, backlit display, exceeding the range, continuity test with a buzzer and overvoltage protection and recording the measurements.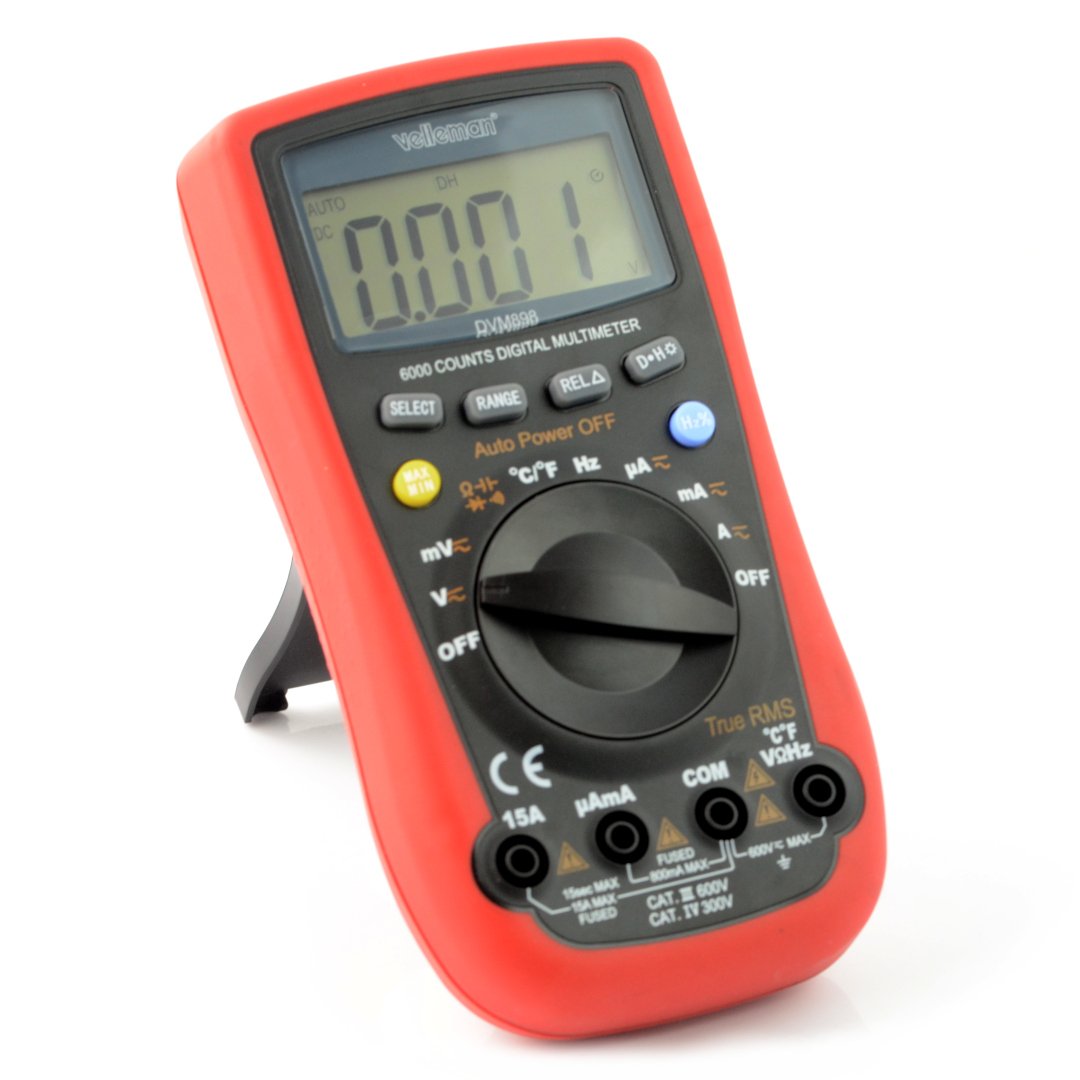 The meter is powered by the popular battery 1 x 9 V6F22C, which are included in the package. The battery discharge is displayed on the digital indicator. Everything is enclosed in a protected, original box.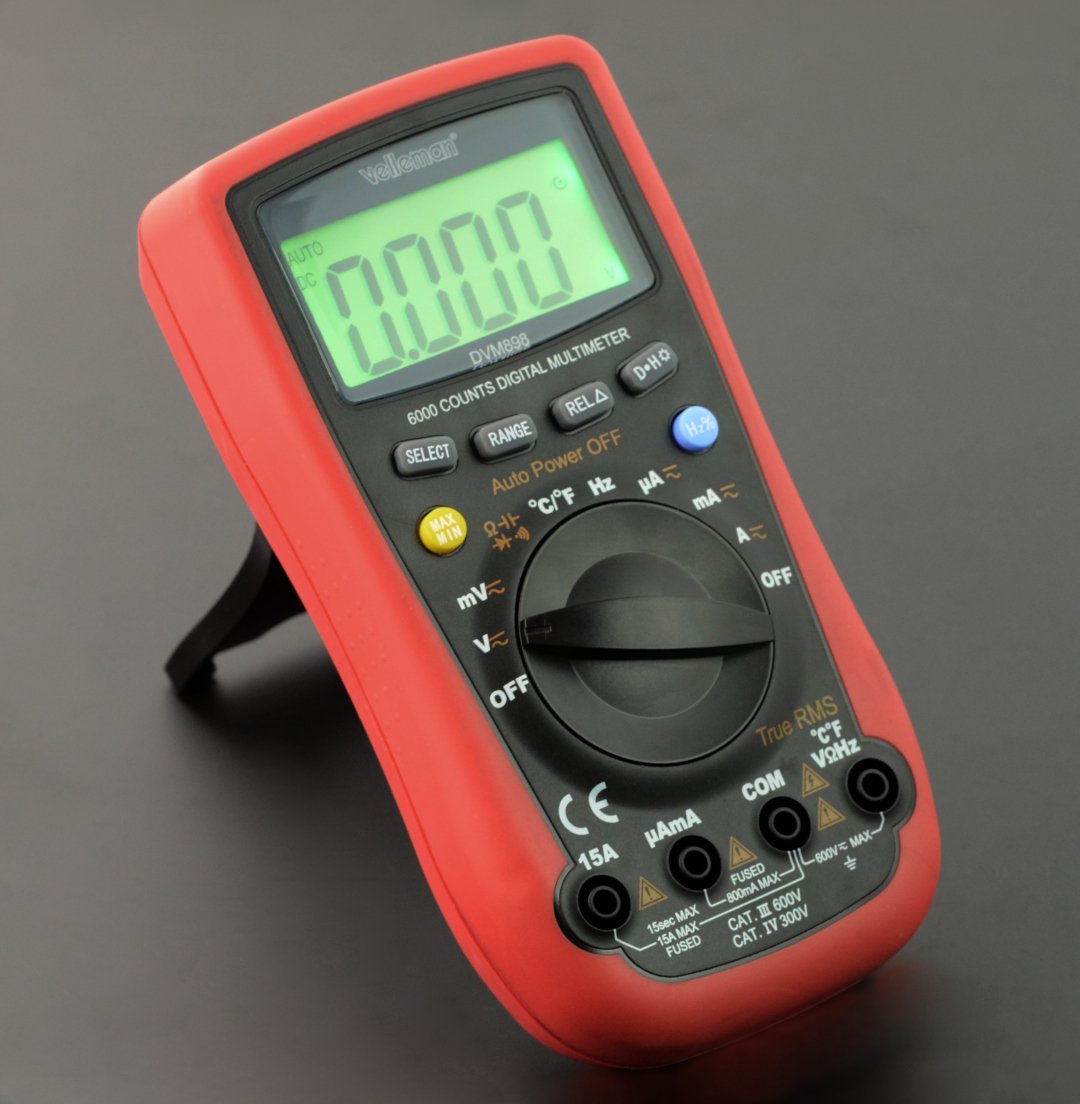 Features
KAT. III 600V / CAT. IV 300V
AC TRUE RMS
automatic mode and manual
automatic polarity indication
automatic reset
voltage measurement: 600 VAC and 600 VDC. CURRENT (max.)
measure current: DC 15 A max AC current 15 A max.
measurement of resistance: 60 mω (max.)
capacitance measurement: up to 99.99 MF max.
measurement frequency: 9,999 MHz max.
temperature measurement: -20°C - 1000°C (-4°F - 1832 °F)
SET OF TEST LEADS WITH PVC - CAT. IV 600 V - 15 A - 18 AWG - 75 cm in LENGTH
pollution degree 2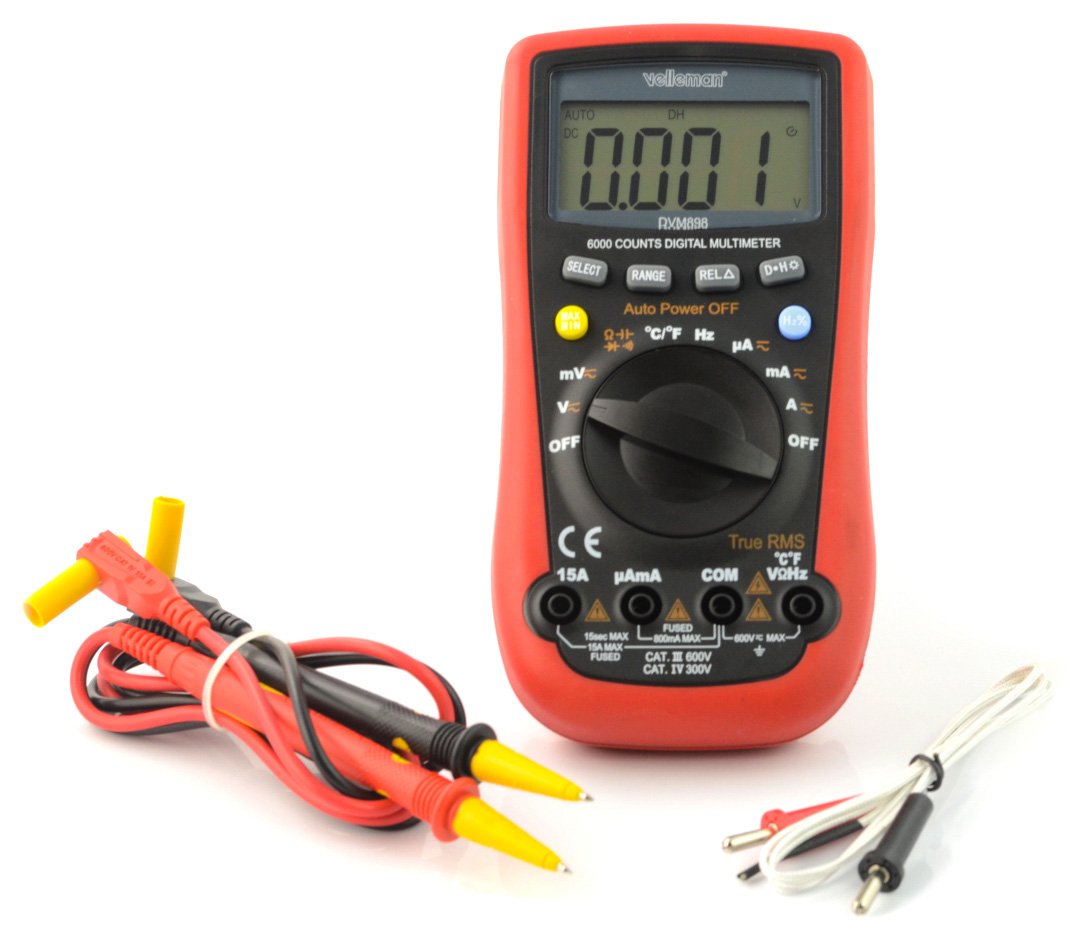 Set includes
Multimeter Velleman DVM 898.
Test leads.
Batteries1 x 9 V 6F22
English and Polish manual
Warranty: 24 months.
Technical specification
Option
Range
DC voltage

0-60 mV / 600 mV / 6 V / 60 V / 600 V

AC voltage

0-60 mV / 600 mV / 6 / 60 / 600V

DC

0-600 µa / 6000 µa / 60 mA / 600 mA / 6 A / 15 A

AC

0-600 µa / 6000 µa / 60 mA / 600 mA / 6 A / 15 A

Resistance

0-600 Ohm / 6 kOhm / 60 kOhm / 600 kOhm / 6 MOhm / 60 IOM

Capacity electric

0-9,999 NF / a 99.99 NF / NF to 999.9 / 9,999 µf / to 99.99 UF / UF to 999.9 / 9,999 MF / mF 99,99

Frequency

Yes0-9,999 Hz / a 99.99 Hz / Hz to 999.9 / 9,999 kHz to 99.99 kHz 999,9 kHz / MHz 9,999

basic accuracy: ± ( 0.1% of.m. + 5 digits)
sensitivity: the signal is sinusoidal effective value of 0.6 V rms (9,999 MHz: 1.5 V rms)
overload protection: 600V DC or AC rms

Battery tester

Yes,1.5 V / 9 V


basic accuracy: ± (5,0% V. M. + 5 digits)
overload protection: fuse 0.5 A / 600V
overload protection: fuse 0.5 A / 1000 V

Temperature

Yes,- 20 °C to 1000 °C /-4 °F - 1832 °F

basic accuracy : ± (3 °C + 1 digit) - range from -20 to 150 °C; ± (3% in.m. + 2 digits) - range from 151 °C to 1000 °C
basic accuracy: ± (5 °F + 2 digits) - range from -4 °F to 302 °F; ± (3% in.m. + 3 digits) - range from 303 °F-1832 °F

Continuity measurement

if a resistance is less than 50 Ohms, built-in buzzer beeps

Diode Tester


Yes

voltage measurement: ± 3.2 V

Warning sound
Yes
Exceeding of the range
Yes
Battery indicator
Yes
Display
LCD display (60 x 28 mm) up to 6000 characters
The maximum display value
3 1/2
Mode selector
so,manual and automatic
Transistor tester
not
Memorization of data
Yes
Backlight
Yes
automatic shut-off
Yes

Dimensions

177 x 92 x 40 mm

Weight ( with battery)

320 g

Power supply
battery1 x battery

9V 6F22 battery (included)

terms of use

temperature: 0 °C to 40 °C (32 to 104 °F)
humidity: < 80 % RH.

storage conditions

temperature: -20°C - 60°C (-4°F to 140°F)
humidity: < 90% RH

fuse

F0. 5 A / 600 V, 5 x 20 mm
F15A / 1000 V 5 x 20 mm

Probe

KAT. III 1000 V / CAT IV. 600 V, 15 A, L = 75 cm

class IP

IP20