Description: MCP4728 DAC I2C converter - 4 channels + EEPROM - Adafruit 4470.
Digital-to-analogue converter based onMCP4728chip. It allows to obtain4 analog outputsfrom any microcontroller equipped withI2Cinterface, e.g. Arduino. The converter is poweredfrom 2.7 V to 5.5 V.Resolution is12-bit. For easy connection, it is equipped withQwiicconnectors. DAC converters are used e.g. to generate sound, operate musical instruments and many other projects.
DAC outputs of the MCP4728 DAC
The module communicates with any microcontroller equipped with I2C communication interface. MCP4728 is powered from2.7 Vto5.5 V. It hasQwiicconnectors for simple connection.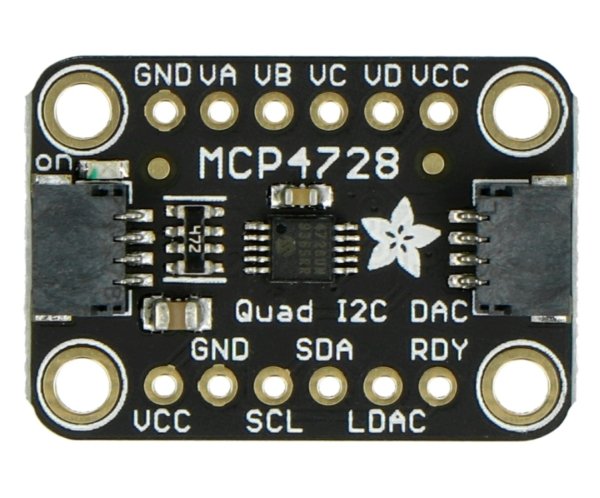 | Pin | Description |
| --- | --- |
| VCC | Supply voltage from 2.7 V to 5.5 V. |
| GND | The weight of the system. |
| SCL | I2C bus clock line. |
| SDA | I2C bus data line. |
| LDAC | The blocking pin can be used to block the output during channel updates. |
| RDY | Pin ready. It switches to a low state when data is stored in the EEPROM. When the process is complete, it goes to a high state. |
| VA, VB, VC, VD | Analogue outputs. |
DAC MCP4728 specifications
Supply voltage: 2.7 V to 5.5 V
Communication: I2C
Number of analog channels: 4
Resolution: 12-bit
Built-in EEPROM
Output voltage range:

using internal VREF (2.048 V):

0.000 V to 2.048 V with Gain Setting = 1
0,000 V to 4,096 V with Gain Setting = 2

using external VREF (VDD):

Adjustment time: 6 us (typical)
Default I2C address: 0x60
Dimensions: 25.7 x 17.8 x 4.6 mm
Weight: 1,5 g