Attention!
The product has been discontinued. Check other products incategory.
Description
Module based on chips Atmel SAMD21 and ATA8520, allowing networkSigFox 868MHz. Equipped with aCortex-M0+. It has256 kBofFlash memory,32 kB SRAM, 8 digital pins, 7 analog inputs, 1 analog output, 12 PWM pins. MKR Fox 1200 operates with a voltage of 3.3 V. Included is anannual free subscription to the SigFox network(up to 140 messages daily)and geolocation Spot'it.
The module can be powered by battery2 x AA, 2 x AAA batteriesor from external power supply 5 V. Switching between power sources is automatic.
Tile has many connectors:
MicroUSB
Screw connections for battery connection
Female pins
Antenna connector SigFox u.FL (no antenna included)
Key features
Below are a few features that distinguish modules Arduino compared to other programmable tiles.
Name
Description

Installed

bootloader

Thanks to installed bootloader, for programming the device sufficient are micro usb cableandthe software from the manufacturer's website.

Small

size

This version is characterized by small size: 68 x 25 mm. It has soldered male connectors from the bottom and female connectors on the top.

Connection

SigFox


Arduino MKR Fox 1200 has a built-in moduleAtmel ATA8520which allows you to exchange data in the network SigFox.

Serial communication

The device supports popular communication interfaces, i.a. UART, I2C and SPI.

Built-in memory

Chip Atmel SAMD21 is clocked with a signal at a frequency of 48 MHz, has 256 KB Flash and 32 KB RAM SRAM.

Supply 5 V


microUSB / battery 3.7 V

To power the Arduino, you can usea power sourcewith a voltage of 5 V with microUSB connector or use 

the batteries

2 x AA, 2 x AAA.

Built-in LED

The connected LED on pin 6 allows debugging simple programs.
First run
To help you get started with the module, a manufacturer provides a user manual that applies to the installation and to the first run of the NKR FOX 1200.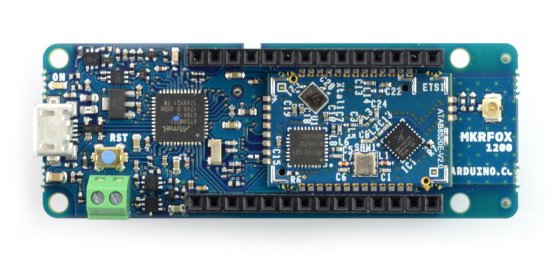 Specification
Microcontroller: SAMD21 Cortex M0+ 32-bit
Supply voltage of the logic part: 3.3 V
Memory SDRAM: 32 KB
Flash memory: 256 KB
Frequency: 48 MHz
Digital pins I/O: 8
Analog inputs: 7
Analog output 1
PWM: 12 pins
UART: 1
SPI: 1
I2C: 1
Current on pins I/O: 7 mA
System SigFox: ATA8520

Frequency : 868 MHz

Operating area: Europe

Included no antenna
Power: microUSB or 2 x AA or 2 x AAA
Screw connector
Dimensions: 68

x 25 x 20 mm