Attention!
The product has been discontinued. Check others products incategory.
Specification
Supply voltage: 2,2 V - 16 V
Current consumption: 0.5 mA
The measuring range is configurable:

+/- 1.5 G (800 mV/G)
+/- 6g (206 mV/G)

Dimensions: 12.7 x 23 x 2.3 mm
Weight: 1 g
Included: straight and corner goldpin, and jumper
Description
The sensor is equipped with a3D MMA736Laccelerometer from Freescale, itis used to measure acceleration in three axes. Built-in regulator allows you to power the module with any voltage in the range from 2.2 V to 5.5 V. The output data is sent to the central unit in the form of analog voltage. The pins are popular goldpin connectors for connecting the sensor viawiresor via direct attachment to breadboard.
Attention!
Before connecting, you must check out thedocumentationof the module.
Dimensions
The outline of the chip fits in the rectangle of the size: 23 x 13 mm. Thickness of the whole does not exceed 2.5 mm. For mounting, there are two holes with an internal diameter of 2.2 mm.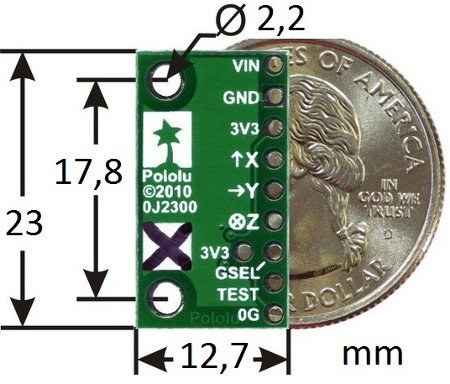 Pins
Powering from 2.2 V to 16 V is connected toVIN pin.
X, Y, Z pins are the analog outputs of the respective axes of the accelerometer. The outputs are centered on the half of the value of the voltage of the pin 3V3. The positive acceleration causes an increase and a negative, voltage drop.
Pin of selecting the g-Selectsensitivity,is internallypulledto ground, which determines the default range to:
+/-1,5 G (800 mV/G) for MMA7361L
+/-3G (440 mV/G) for MMA7341L.
Specifying the high state changes the range to:
+/-6G (206 mV/G) for MMA7361L
+/-11g (118 mV/G) for MMA7341L.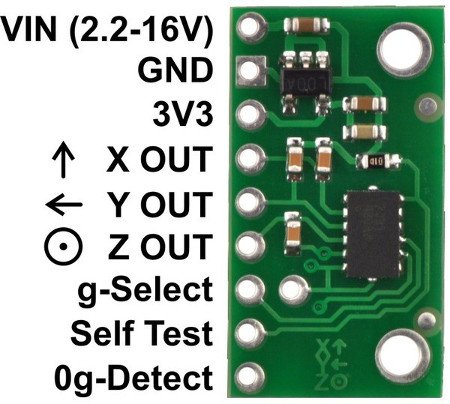 Pin-0g-Detectis in high status when all three axes detects 0G.
 
SelfTest Pinis internallypulledto ground.
Its connection is not required for proper operation of the module. Details are inthe documentation.
The module can also be powered directly with the voltage from 2.2 V to 3.6 V indicated onpin 3V3.
Attention!
SelfTest pins and g-Select do not work with 5 V!